The branding gurus at various tech companies are certainly gamblers at heart; they're always rolling the dice when they choose names for their products. Tech reporters and bloggers clap their hands together in gleeful anticipation when they hear about a forthcoming iPad, ThinkPad, Zune, Vista or Wii — especially if said products end up sucking royally. They can imagine how much fun they would have with headlines like "ThinkPad? StinkPad!," "Goodnight Zune," "Vista's Lack of Vision," etc.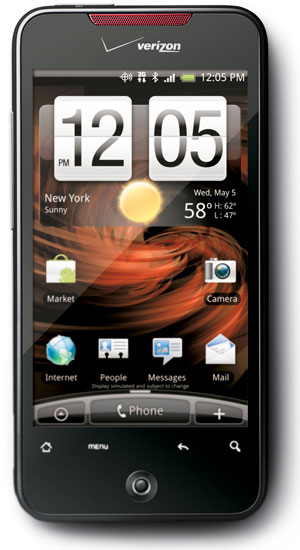 The HTC Incredible
Whoever is picking the titles for HTC's smartphones is handing a lot of potential ammunition to these wiseacres. Who wouldn't be licking their literary chops over the prospect of a clay-footed Hero, a error-prone Eris, a limp Passion, a barely-there Desire? And when you launch a phone called the "Incredible," as HTC does this week, you damn well better deliver something that approaches smartphone nirvana without actually having to stick a picture of a half-eaten fruit — the kind that got Adam, Eve and Gizmodo in trouble — on the back.
Luckily for HTC and Verizon customers, the Incredible comes through with all the panache of a certain Pixar superhero. A tweaked Sense user interface, a blazing Snapdragon processor and a ready-for-prime-time Android OS 2.1 form the key elements tucked away in a sleek black case that's a lot slimmer than the Motorola Droid and even slightly thinner than its sister HTC smartphone, the Eris. Because of all this, I'm predicting lots of smartphone envy for Verizon customers who bit on the first round of iPhone-chasing offerings, and a lot of head-turning in the carrier's retail outlets among those ready to make the leap to a new handset.
Incredible Design
I wasn't kidding when I likened this phone to Mr. Incredible from Pixar's "The Incredibles" — at least when it comes to the case. (Who designed this phone, Edna Mode?) Mr. Incredible wore a mostly red suit with black trimmings; the Incredible's suit is black with some slight red flair at the top earpiece and rimming the camera lens, which moves to slightly off-center on the phone's upper back to accommodate two small LED flashes. In fact, red and darker tones seem to dominate most of the HTC-provided wallpaper settings for the phone.
Gone are the two standalone silver buttons for power and phone functions at the bottom of the Eris, along with the raised trackball. The power button moves to the top edge near the earphone jack, and an optical track circle at the bottom that will take some getting used to compared to the trackball. The idea seems to be to flatten everything out a la iPhone — the four touch-sensitive buttons for home, menu, back and search remain, but aside from the usual volume up/down buttons on the side, the Incredible goes for touchscreen-button manipulation.
The Camera
That is especially true for the camera functions, and this is where the Incredible may run into some minor roadblocks. Don't get me wrong: An 8-megapixel camera makes this phone a very attractive option for those looking to keep their Sony Cybershots and other standalone digital cameras at home while on summer vacations. I tested the outdoors capabilities on the front yard of my Seattle-area home on a sunny afternoon. All the colors that pop out to me as I turn into my driveway at this time of year were captured magnificently by the Incredible's optics: the sky-blue shades of our Japanese magnolia tree, the deep rusty reds of our ornamental cherry, the pinkish-reds of our red dogwood and two different shades of green courtesy of various indigenous trees. The pictures looked great on the Incredible's wide (at least for a phone) 3.7-inch WVGA screen, in case you want to share them instantly, and the colors also came through with flying you-know-whats when sent to my Facebook page and as an email attachment.
However, adjusting the settings for flash, brightness, white balance and the like is done via slide-out menus that will take some practice for those looking to get the picture image just right, so be warned.
The Specs
Who said Qualcomm's heavy-lifting Snapdragon processor requires an equally-hefty smartphone like the Motorola Droid? The 1 GHz chip in the Incredible dashes through apps and mobile Web screens; it's enough power to make those used to waiting even for a few seconds for their Eris to load Web pages not adjusted for mobile devices feel like they're plonked back in front of a desktop computer in the early '90s during dial-up days. Analysts have told me that Google is asking handset manufacturers to consider putting more Snapdragons into their products so it can truly unleash the brainpower of the search engine company's mobile developers, as well as the considerable talents of its third-party providers. Now I see why.
The Android 2.1 OS will also make Droid users wonder once again (very loudly) why Google can't come up with a better way to standardize this open source mobile software that has so much potential to take on the iPhone OS. I know my Eris is powered by a less-mighty processor, but can I please enjoy a little bit of the latest Droid OS? Can we make this a little more consistent among handsets? I especially would like access to the new, improved Android Marketplace, a cleaner, brighter space for app shopping on the Incredible and other smartphones running Droid 2.1.
The OS and the HTC Sense UI, as in other HTC Android products, work and play well with each other in the Incredible. In my opinion, Sense offers some of the easiest screen territory to customize and personalize. You get seven, count 'em, seven screens for placement of icons and widgets, along with quick-dials and messaging for family/friends/business contacts. One minor addition is the ability to pinch-and-shrink all seven screens down to one home screen for easier navigation. A major addition? FriendStream, which aggregates social media networking into one icon, much like the Mail and Messaging icons do for those communications functions.
At US$199 (after $100 mail-in rebate), the Incredible is the best chance yet for Verizon to offer a serious competitor to the current iPhone. (June and Apple's Worldwide Developer Conference is right around the corner, I know). I write that with the awareness that the real attraction for many smartphone buyers — an app store loaded with content — still puts the advantage in Apple's court with more than 185,000 apps. But this week a Verizon Wireless spokesperson told me that the Android Marketplace hit the 50,000-app mark in a very short period of time when you consider the brief life of the app store segment. Growing acceptance by developers and the continued perception that AT&T's network has issues with iPhone service in some areas is marketing fodder for Verizon and HTC, and the Incredible may end up being the real super-Hero in HTC's smartphone lineup.
At the very least, HTC won't have to dial down its trend for handset names — The HTC So-So or HTC Meh just don't have the same ring to them, you know?