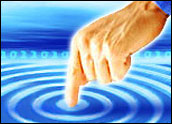 Consumers shopping for touch screen-enabled mobile handsets this holiday season will soon have to wade through a whole slew of the newfangled devices as every week seems to bring another announcement from carriers. In keeping with the trend, Sprint unveiled its new Touch phone developed by HTC.
"Touch by HTC is unlike any other wireless device because it brings together the power of Windows Mobile with ease access to our entertainment applications," said Danny Bowman, vice president of product development for Sprint. "This attractive device easily lets you watch news as it happens, respond to e-mail, download your favorite songs and stay connected with the office, family and friends."
The Sprint phone, available in the U.S. on Nov. 4, joins two new phones from Verizon — LG's Venus and Voyager — as well as Apple's iPhone, the device that kicked off the craze for touch screen phones.
The Touch will retail for US$249.99. Consumers who agree to a two-year contract will receive a $100 mail-in rebate.
Sprint Gets Touched
Weighing in at just 4 ounces and measuring 4 inches in length and 2.4 inches wide, the Touch offers a 3-inch display. The device's operating system is Windows Mobile 6, and it provides a host of productivity functions including Outlook Mobile, Office Mobile and Windows Live, as well as the ability to run third-party applications.
Users can also surf the Web, chat on Messenger and send files to their Web space using Windows Live.
The touch screen functions are based, however, on HTC's TouchFLO technology, which provides users with smooth navigation through its menus as they are presented on a 3-D cube interface. The cube allows for quick one-touch access to a variety of functions, including entertainment, communication tools and task-specific operations like the "Dial-by-picture" photo caller ID screen, e-mail, text messaging, calendar appointments and contacts. There is also a new feature that enables users to zoom in on pictures with their fingers, a function similar to one offered by the iPhone.
The handset also gives users access to a wealth of Sprint exclusive content. Users can browse and wirelessly download full-length music directly to the phone from the Sprint Music Store's 1.8 million-song catalog. Those seeking a little diversion can view made-for-mobile sports and entertainment video programming on the Sprint Exclusive Entertainment network or check out dozens of Sprint TV channels of live and on-demand video and audio.
Added to those entertainment offerings, Sprint users can listen to more than a dozen streaming radio stations including Sprint Radio and Sirius. Or they can keep up to date on the latest sports, weather, news, money and other information, customized by ZIP code, for hundreds of cities around the globe.
A mobile phone just isn't a phone these days without a camera, and the Touch sports both a 2-megapixel still camera and camcorder with up to 5X zoom. It also comes with advanced stereo Bluetooth and voice-activated calling.
Expansion cards of up to 4 GB pick up the slack for the Touch's built-in flash memory for media storage. The Touch operates over Sprint's speedy EVDO (evolution data optimized) network.
'Touch-Friendly'
"What is readily different about it is that it has a touch interface on top of Windows Mobile that spins on one axis as you drag you finger across. In that way it's very touch-friendly," explained Chris Hazelton, an analyst at IDC who had generally positive impressions after using the Touch.
The only downside to the phone, Hazelton pointed out, is the handset's text input methods, used when texting or sending e-mail, which he said may pose a challenge to some consumers.
"It offers four ways to enter text, whether it's from handwriting recognition or using a very, very small QWERTY keyboard," he told TechNewsWorld.
"It's not a messaging device. It's not geared to the enterprise, but more specifically to consumers. But even with consumers you still need some SMS (short message service) capability, and this is a very difficult device to SMS with because you either need to learn how to use the handwriting recognition software or use a stylus," he continued.
Styluses are so 2004, and what the phone needs is a touch screen or actual QWERTY keyboard, he said, in the same style as the iPhone and the Voyager
iPhone Always on the Mind
Although Sprint may have pinned its hopes on the Touch as a challenger to the iPhone, David Chamberlain, an In-Stat analyst, told TechNewsWorld such an occurrence is a long way away.
"A touch screen doesn't make a phone an iPhone," he explained. "It just makes it a phone with a touch screen. And I don't think there will be anything to 'challenge' the iPhone for a long time, if ever."
Aside from the sexy user interface, the iPhone doesn't do anything particularly special, Chamberlain added, and there are several phone-specific things that the Touch probably does better — like access Sprint's EVDO high-speed 3G network.
"The Touch uses a very traditional interface and traditional phone functions. It still has the limitations and ease-of-use issues people have come to associate with Windows Mobile," he pointed out.
The real point, according to Chamberlain, is that consumers are going to be more open to a touch screen or no-keypad phone. Naturally, other handset vendors have rushed to emulate the iPhone in any way they can, as Chamberlain predicted in January when the iPhone was announced.
"There will still be a lot of people who need to have an iPhone because they need to have an iPhone," he concluded. "Products like the Touch will provide a 'good enough' experience for those of us who don't adore the Apple brand."