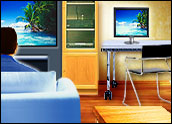 If Alec Baldwin wants to help the free Web video service Hulu turn its users' brains into mush — as per its new TV commercial unveiled during the Super Bowl — he will have to do so without the help of Web-to-TV application Boxee.
Boxee announced Wednesday that Hulu, co-owned by NBC and Fox, had asked it to remove its content from its lineup. The move happened at the request of content providers, Hulu CEO Jason Kilar said. "While we stubbornly believe in this brave new world of media convergence — bumps and all — we are also steadfast in our belief that the best way to achieve our ambitious, never-ending mission of making media easier for users is to work hand in hand with content owners," Kilar said.
"Our goal has always been to drive viewers to sources of legal content on the Internet because we know what the alternative is," Andrew Kippen, Boxee press and blogger relations spokesperson, told TechNewsWorld. "We're disappointed and we're hopeful that we can work with Hulu and our partners to find a solution."
So is this another instance of big media companies tightening their grip on their content while ignoring the possible distribution benefits provided by nimble startups? Or yet one more case of said nimble startup building a business model on the back of media company content that it didn't have full permission to use?
Boxing in Boxee
Hulu, as many tech observers know, has gained attention by providing embeddable broadcast network TV shows like "Saturday Night Live," "24" and Baldwin's "30 Rock" for on-demand, Web-only viewing with minimal commercial interruption. Boxee made its name by coming up with plug-and-play software that allows Web content to be easily viewed on a TV. Its content lineup also includes Netflix, ABC, CBS and Comedy Central.
Allen Weiner, Gartner digital media analyst, recently bought a big-screen TV with the express purpose of Internet-based viewing; no cable or satellite hookups allowed. "We've been watching a lot of Boxee," Weiner told TechNewsWorld. "It's probably not the optimal experience for Hulu on a TV set. It's a slightly hacked version. You do get Hulu, but you don't get the integrity of the content. You can't do any HD content and the searching is pretty good, but not great. Hulu may have said, 'We want to investigate our own opportunity to be on TV and if so, we want to be in control of that and optimize the experience.'"
The timing of Hulu's grip-tightening of content is curious to Forrester Research senior analyst Bobby Tulsiani; it's happening shortly after it launched the major ad campaign featuring Baldwin. "Hulu has become this mindshare brand-equity thing," Tulsiani told TechNewsWorld. "With greater awareness — which was their goal — comes greater scrutiny. As everybody fights to bring a TV-type solution to their PC, you're going to see that greater scrutiny."
Follow the Money
The current economy and dwindling ad dollars for all involved in the media industry are also figuring into this issue, Tulsiani said. "Every media company, more so than 12 months ago, is under increasing pressure to increase margins, revenue, operating profit and everything around it. It's increasingly difficult to do that with ads falling off a cliff. It's not going to get better next quarter, and when the screws get tightened at the top, it filters downward."
Apparently, all the way down to companies like Boxee. Kippen wouldn't comment on whether continued negotiations with Hulu will involve increased payments for the content. He did say that Boxee's blog comment section and Twitter account have been burning up with user reaction to Hulu's move.
"We did a survey back in October about what services they (users) wanted to see in Boxee and they asked for Hulu, that was the No. 1 request," Kippen said. "They're disappointed and I've been getting emails and tweets from people saying, 'what do I need to do, tell me who I need to talk to, where can I send an email, can I organize a community group.' They're trying to be a part of the solution with us."
That solution may ultimately involve the kinds of deals that both Hulu and Boxee will make with other partners, and who their ultimate competitors are in the media universe. Weiner says Boxee may be targeting TVs for its software. "They may want to be the navigational interface for some consumer electronics manufacturer who has them in every TV set, and get some sort of revenue stream from that." As for Hulu, it is no doubt keeping one eye on a certain Google subsidiary and its negotiations with content providers for TV and long-form content.
"One of the reasons that Hulu has to consider Boxee is that YouTube is there. I don't think that Hulu can afford to look past some of these deals that YouTube is jumping all over," Weiner said.