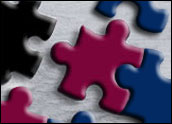 IBM and 3Com have announced an agreement to complement 3Com's VCX IP telephony with System i, IBM's all-in-one mid-market computing platform. The partnership allows businesses with 100 to 2,000 users to have an integrated VoIP and systems solution complete with hardware, software, storage and security.
The IP telephony system can run on a single Linux on Power partition with the System i. This means businesses can run telephony and business applications simultaneously while using System i management tools.
Integrated Features
"We're delivering integration of IP telephony with the applications that System i customers are already running," Chip McClelland, senior marketing manager for IBM System i, told TechNewsWorld.
The suite provides businesses with cost savings because the integrated IP telephony doesn't require buying more servers for the network. Furthermore, with calls being transmitted over the existing local area network instead of the public telephone network, call and service charges are lowered.
The integration of 3Com's IP telephony features — including unified messaging, video conferencing and large scale audio conferencing — into business applications gives companies flexibility when communicating with their customers, employees and other businesses.
"Imagine integrating a call center application with click-to-call capabilities, where the customer's profile automatically appears when he or she calls," Honore LaBourdette, vice president of Global Strategic Alliances at 3Com, told TechNewsWorld.
Scalability, Availability
Businesses adopting the platform experience higher productivity because of the presence feature also known as "Find Me, Follow Me." It makes it easier for employees and customers to reach the business' employees, LaBourdette said, because they're online and available to get and receive calls anytime, anywhere.
One of the touted features is 3Com's use of SIP (Session Initiation Protocol) in delivering a native, standards-based IP telephony application.
"The benefit of Session Initiation Protocol (SIP) is that it is an industry standard that not only enables phones to speak to each other, but can be used to integrate business applications to voice applications," LaBourdette said
Not only does the VCX bring more functionality to System i, but System i returns the favor by integrating the two applications' scalability and availability. System i automatically allocates resources.
"The [System i initiative] is now well-established with significant momentum, so we're in the position to reach out to thousands of ISVs (independent software vendors) and encourage them to enhance their applications with IP telephony," McClelland said.
The integrated system is expected to be available third quarter 2006; pricing has not been announced.