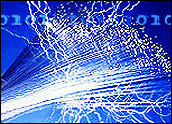 IBM on Thursday unveiled a prototype green optical network technology that promises to enable the high-speed transmission of huge files with very little power consumption.
By using light instead of wires to send information, the new technology could allow the transmission of 8 trillion bits (terabits) per second of information — equivalent to about 5,000 high-definition video streams — using the power of a single 100-watt light bulb, IBM said.
As a result, it could bring massive amounts of energy-efficient bandwidth to a wide variety of machines, from supercomputers to cell phones. It could also revolutionize the way people access, use and share information.
High-Def Mobile Phones
Among the applications of IBM's new technology are all kinds of contexts that require the sharing of large data sets, including scientists crunching data to discover new drugs, people sharing high-definition movies among devices and friends, and doctors sending high-definition medical images to specialists for urgent diagnoses.
The technology could also bring the power of high definition to mobile phones, IBM said. One chip could sit in the base of the phone and another could sit in the display, for example, allowing high-definition content to move from one to the other without any electrical wires to impede the motion of the display, the company said.
In supercomputers, the new optical technology could save massive amounts of power, IBM said. For a typical 100-meter-long link, the power consumed by the optical technology is 100 times less than today's electrical interconnects and offers a power savings of 10 times over current commercial optical modules.
Significant Leap
The technology puts optical chips and optical data buses in a single package with standard components, and it meets the bandwidth requirements for peta- and exa-flop supercomputing, marking a significant leap beyond what the same research team unveiled just a year ago.
"Last year we unveiled an optical transceiver chipset that could transmit a high-definition movie in under a second using highly customized optical components and processes," said IBM Researcher Clint Schow, part of the team that built the prototype.
"Just a year later, we've now connected those high-speed chips through printed circuit boards with dense integrated optical 'wiring,'" Schow explained. "Now we have built an even faster transceiver and have moved the optical components away from custom devices to more standard parts procured from a volume manufacturer, taking an important step toward commercializing the technology."
Smaller Than Hair
IBM's optically enabled circuit boards, or "Optocards," employ an array of low-loss polymer optical waveguides to conduct light between transmitters and receivers. The complete databus constructed with these Optocards not only incorporates a large number of high-speed channels, but also closely packs them to achieve unprecedented density — something that's possible because each waveguide channel is smaller in size than a human hair.
The packaging approach for the complete system uses hybrid chip integration to produce a highly integrated optical module. That "Optochip" is a multicomponent 3-D assembly constructed with conventional surface mount solder processes similar to those currently used in the mass-production of electrical chips. The 10 Gb/channel databus is the first ever demonstration of an integrated module-to-module, 32-channel optical datalink on a printed circuit board, IBM said.
The new breakthroughs were achieved as part of a DARPA-funded program, launched in 2003, to demonstrate high-bandwidth chip-to-chip interconnects through polymer waveguides integrated on a printed circuit board, IBM said.
Inherently Green
Optical interconnects have been around for a while, and optical technology has always been greener to some extent, Roger Kay, president of Endpoint Technologies, told TechNewsWorld.
"When electrons travel through wires, there's inevitably some heat loss, but because optical technologies are moving photons around instead, that doesn't happen," Kay explained.
What's likely the case with the new technology, however, is that it has taken technology that is inherently green and reengineered it for smaller-device applications, he said.
'Quantum Leap'
The new technology does make a "quantum leap" over what's been possible before, asserted Charles King, a principal analyst with Pund-IT.
"There are twin benefits here," King told TechNewsWorld.
First, in healthcare applications, digital medical images can be in the "tens or hundreds of gigabytes," requiring minutes or more to move files, King explained. "If you have a patient who is seriously injured or in the emergency room, where time is of the essence, this will allow the file to reach the doctor more quickly, and could improve healthcare or even save lives."
The ability to move large data sets more quickly and seamlessly will also create opportunities for next-generation media and entertainment devices, King said: "Using the technology on a cell phone, for example, could enable handheld devices to become viable media entertainment devices rather than just the playthings they are today."