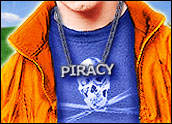 An attempted antipiracy campaign came screeching to a halt when, after just four days, the Icelandic Film and Movie organization, SMAIS, took down its Facebook page, according to Torrent Freak.
SMAIS apparently wanted to spur dialogue with Icelanders, but that backfired when Facebook users — who were "fans" of the SMAIS page — began blasting the group in its own comment section. Torrent Freak reports the response was so overwhelming that the group was forced to shutter.
As Torrent Freak points out, the Motion Picture Association of America, or MPAA, is not on Facebook, presumably because — as SMAIS learned — a lot of zealous pro-file-sharing netizens use Facebook.
Adding to the vitriol was a report that said SMAIS hadn't paid for film- and game-rating software that it purchased in 2007, which made its antipiracy message ring hypocritical to critics.
Torrent Freak displayed the farewell letter SMAIS posted to Facebook. It said that there "are too many people here that only wants [sic] to flame us."
China Still Hacking the WSJ
Even after disclosing Sunday that it had been targeted by Chinese hackers, The Wall Street Journal is still under cybersiege.
Journal owner Rupert Murdoch tweeted, "The Chinese still hack us, or were over weekend."
After The New York Times published a report acknowledging that Chinese hackers had breached its systems, The Washington Post revealed it had been targeted in similar attacks.
Hacks on the Times coincided with its report on the fortune amassed by relatives of Prime Minister Wen Jiabao.
Social Media Firms Look to Middle East
Social media companies are trying to tap intothe Middle East's growing user base, according to The New York Times.
The Times points to the social media boom that happened during the Arab Spring as an impetus for companies, including Facebook, LinkedIn and Twitter, to set up offices and "sell advertising products" to companies in the region.
Television and print ads have held strong in the Arab World, but that is changing, according to the Times. Digital advertising is the fastest growing media platform in the region: business service firm Deloitte Touche Tohmatsu estimates that digital advertising in the region will grow 35 percent a year over the next three years — good for nearly $600 million by 2015.
Arabic is reportedly the fastest growing language on Twitter, fueled by growth in Saudi Arabia, Kuwait, the United Arab Emirates and Egypt.
EU Mulls Mandatory Reports for Cyberbreak-ins
New rules proposed by the European Union would force more than 40,000 firms — including banks, hospitals and energy providers — to report cyberbreak-ins should their systems be hacked.
The BBC reports that Neelie Kroes, the EU's digital agenda commissioner, wants the 27-nation bloc to improve its collective cybersecurity. The EU is hoping to force member states to share info about attacks.
If passed, the proposals would force nations to appoint a computer emergency response team, and create an organization that would receive reports about security breaches.