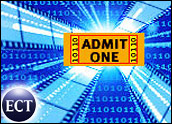 A site known for its information on entertainment is now offering up thousands of movies and TV shows for free streaming. The Internet Movie Database, or IMDb, launched a massive streaming service this week. The Amazon-owned operation has 6,000 full-length programs already available with plans for more titles in the future.
The service interacts with Amazon's pay-based movie purchasing options, giving users the ability to rent or purchase the video for television-based viewing if they so choose. The service itself, however, is only ad-supported and has no fees or subscriptions built in.
All-Purpose Options
Already, IMDb is offering a wide array of content within the free streaming service. Current network TV shows such as "24," "The Office" and "The Simpsons" can be seen alongside classic programming such as "Beverly Hills, 90210," "Charlie's Angels" and "Star Trek." A handful of fall premieres will also be made available on the site prior to their broadcast debuts. "Knight Rider," "Lipstick Jungle," "Chuck," "Life" and "30 Rock" are all set to become available on IMDb within the next several weeks.
When it comes to movies, the list ranges from relatively recent titles — "Bring It On" and "Fever Pitch," for example — to classics such as "Fiddler on the Roof" and "Some Like It Hot." CBS, Hulu and Sony Pictures Television are all contributing content. The videos are all integrated with IMDb's informational services, letting users click to see facts about the shows and actors right from the screens.
"IMDb's goal is to show its users every movie and TV show on the Internet for free on IMDb.com, making the site truly the destination for movie and TV lovers," Tammy Hovey, a spokesperson for IMDb, told TechNewsWorld.
Independent films have a place in the mix as well. As of now, 500 indie filmmakers have their work included, and IMDb is calling for more to submit their material, too.
Suggested Spending
So what's the catch? The only real inconvenience is advertising, but Amazon is certainly not shying away from offering options to spend money as well.
"On title pages where IMDb does not have the content available for free, users can click on the Amazon Video On Demand button to rent or purchase the video from Amazon," Hovey explained.
On pages where video content is available, there will also be an option to snag it for later viewing or non-computer use.
"They can decide whether to watch an ad-supported movie or show on IMDb for free, or rent or purchase a movie and show immediately from [Amazon Video On Demand] without commercials," Hovey said.
Analyzing the Model
The monetization model certainly seems to make sense. While streaming content online is a valuable offering, many people prefer to watch full-length movies on their televisions — or to be able to keep them for repeat viewing in the future.
"The biggest problem right now is that it is streamed, so it's pretty much limited to the computer," Phil Leigh, a senior analyst with Inside Digital Media, told TechNewsWorld. "It's pretty hard to get it off the computer and over to the television," he said.
The plan, then, may end up being win-win: Users get to see content for free online, and Amazon will drum up extra business for its rental and purchase options.
"I think the idea here is to get people accustomed to looking for movies on the Internet," Leigh pointed out. "If they want to watch them on the television, then they have to pay. They can either buy it and keep it, or they can pay (US)$4 or $3 and rent it," he said.