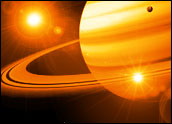 A man who made his name by founding PayPal has now made history by launching a small, low-cost rocket into space. Elon Musk, who heads up space exploration company SpaceX, successfully sent a Falcon 1 rocket into orbit over the weekend. It marked the company's fourth attempt and first success in launching the rocket.
SpaceX blames design issues for its past problems, the most recent of which resulted in the loss of three government satellites and the ashes of "Star Trek" actor James Doohan and Mercury astronaut Gordon Cooper. (The rocket vanished on its way into space, an apparent consequence of timing trouble.) Now, SpaceX says it's ready to move forward with trials for its larger rocket — which could, it hopes, end up being used by NASA for future missions.
Fleet of the Future
Right now, NASA is planning to retire its current shuttle fleet by 2010. That's why the space agency is working with private companies to find replacements.
"The idea is that the space shuttle is used to finish building the space station," NASA spokesperson Allard Beutel told TechNewsWorld. "Once that's done, then we retire the space shuttle and make way for the next generation of spacecraft that will allow us to be able to go to the moon and other places," he said.
The shuttle, Beutel explained, can only orbit the Earth. Updated vehicles are needed to take us farther.
"If we're going to branch out — go back to the moon or go onto Mars or an asteroid or anywhere else — the space shuttle can't do it. We have to have a different type of spacecraft," he said.
Rocket and capsule systems, then — like the ones being developed by SpaceX — will be used to transport equipment and crew to and from the space station. That, in turn, will free up money for future progress.
"The idea is that the money used right now to operate the space shuttle program gets pushed more into [research and development] for the next-generation stuff — so you keep constantly building the next stuff out," Beutel remarked.
Space Success
For SpaceX, the whole thing means opportunity. And with the recent Falcon 1 success, the company is as optimistic as ever about its larger Falcon 9 rocket and its possible implications for NASA. While the Falcon 1 will eventually become a working launch vehicle, its broader goal was to clear the way for its big brother, so to speak.
"Our attention, now that we've [launched Falcon 1] successfully, is to go into the Falcon 9 rocket and the Dragon" pressurized capsule, SpaceX spokesperson Diane Murphy told TechNewsWorld. "We've developed these in parallel, so all the risk on Falcon 1 that's been retired means we don't have to revisit that on the Falcon 9," she said.
SpaceX has to prove that its rockets can deliver cargo to the space station. It's not the only company trying to show what it can do, but its representatives are confident it's the strongest candidate and will stay at the top of the pack.
Both the Falcon 9 and its Dragon capsule are designed to come back from missions, Murphy said, but that isn't the only factor that sets SpaceX apart.
"Unlike any other offering, [the Dragon capsule] has been designed from day one to take crew. We can take up to seven astronauts," Murphy noted.
What's Next
Next up for SpaceX are more trials and demonstrations. Engineers will spend about 18 months building an escape tower that would let astronauts get out of the vehicle in case something were to go wrong. Then, NASA will decide how to proceed in selecting its future fleet. The space agency's goal is simple: finding the smartest solution to expanding exploration and increasing our understanding of the world around us.
"We haven't done any next-generation spacecraft in 30 years," NASA's Beutel told TechNewsWorld. "The idea is that you're constantly branching out into the solar system — bit by bit, piece by piece," he said.