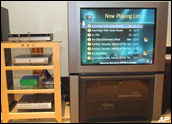 TiVo is teaming up with Nero to bring a new video recording solution to the PC. The companies announced Nero LiquidTV/TiVo PC on Monday. The product will offer TiVo functions from a computer, without the need for a set-top box.
The system will be marketed toward both existing TiVo users and families that don't currently have digital video recording devices. It will run US$199 for the full hardware kit — including tuner card, a TiVo remote for the PC, and an IR blaster — or $99 for just the software by itself. You'll also have to pay $99 a year for the TiVo service.
Familiar Interface
If you've used a TiVo, the Nero LiquidTV/TiVo PC will look familiar. At a glance, it recreates the television-based interface — just on a different platform.
"You have the full TiVo experience, which is brought over to your PC, so it really looks and feels exactly like your TiVo if you have a TiVo today," Kris Barton, senior vice president of Nero, told TechNewsWorld.
The system provides some new options, primarily geared toward portability. Most notably, it simplifies the process of saving and exporting content for on-the-go use.
"Once you've recorded shows and content, most people don't just want to leave them on their set-top box or on their DVR — they actually want to do something with them," Barton asserted. "That's really what we try to take advantage of. With a click or two … you can export your recorded TV shows to an iPod or PlayStation, so you can watch and enjoy the content there," he explained.
The Nero LiquidTV/TiVo PC also lets you burn fully functioning DVDs with a couple of clicks and allows content to be transferred between computers or other devices — opening up the possibility, for example, of taking your TV shows with you on a plane trip or car ride.
"The remote and mobility standpoint is really a strong advantage of this solution," Barton said.
Expanded Options
The device is being targeted toward three main groups, Barton indicated. The first is the "road warrior," or person who's always on the go. The second is the college student who uses his laptop for everything and may not even have a TV. The third is the existing TiVo user.
"I think for people that have TiVo, it's going to be a great addition to extend their experience into their PC world, [into] their office — to make it so you can do multiple things on the PC," Joshua Danovitz, general manager of international for TiVo, told TechNewsWorld.
Some of the concepts may not sound new to existing TiVo users, and there's a reason: TiVo users who have their DVRs connected to a home network see similar functionality already, with the ability to transfer shows between a set-top box and DVR using the TiVo Desktop software. The Nero LiquidTV/TiVo PC, however, simplifies the process, Danovitz said — and adds new power to the platform.
"It makes it so it's very easy to get content onto your portable devices and also onto your PC — you don't have to do transfers over your home network from your TiVo," he pointed out.
International Appeal
The LiquidTV/TiVo PC system will become available in mid-October. It will initially be offered only in the U.S., Canada, and Mexico but is expected to expand into Europe by 2009. Up until now, only the United Kingdom has had any kind of TiVo availability — so this will mark a move into new territory.
"It's a great opportunity for people domestically and internationally to really get an easy taste of TiVo on their PCs," Danovitz said.