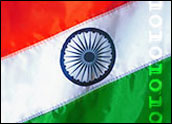 India's home ministry reportedly will seek advice from the U.S. to help decrypt communications taking place on platforms like Skype, BlackBerry and WeChat.
Sharing such spying techniques is a potential "area of cooperation," according to Indian law enforcement.
India has already launched an elaborate system that allows tax officials and security authorities to intercept phone calls and emails without having to mess with that pesky court and legislative oversight.
[Source: Economic Times via Mashable]
Swedish Firm Hopes to Cash In on Anticipated Fingerprint Push
Sweden's Fingerprint Cards hopes to sell its identity-verifying technology to the world's smartphone giants, who are expected to follow Apple en masse and offer touch recognition technology on their devices.
Apple's iPhone 5s, released in September, was the first smartphone to sport a fingerprint scanner. That sensor was provided by AuthenTec, which is part of Apple, and chances are, a branch of Apple won't be offering technology to rivals.
Fingerprint's CEO said that he expects seven or eight smartphone makers to introduce a touch sensor next year.
[Source:Reuters]
Bitly a Casualty of Venezuelan Currency Crackdown
The Venezuelan government's ongoing quest to eradicate websites that post the black market exchange rate has led to the partial block of Bitly, the Internet's eminent link-shortening service.
Access to Bitly has been spotty for more than two weeks because the site was being used to create links that circumvent blocks that have been placed on numerous currency-tracking sites.
Bitly, based in New York, said that previously it has only encountered such restrictions in China, which is public enemy No. 1 for this sort of Web meddling.
The Venezuelan government is doing its darnedest to stymie Web-based info about black market exchange rates. Last month the company asked Twitter to ban accounts posting info about black market exchange rates.
[Source:The Associated Press]
Germany, Too, Nabs Bitcoin Frauds
China isn't the only country rounding up its Bitcoin fraudsters.
German authorities announced that they arrested two people after an investigation into malware that, after infecting people' PCs, generated the virtual currency. The process is known as "Bitcoin mining."
Three people were arrested this week in China for shuttering their Bitcoin exchange while it possessed more than US$4 million worth of other people's Bitcoins, Chinese state-run media outlet Xinhua reported.
There does not seem to be a link between the two cases. These are apparently just the inevitable shenanigans related to an ungoverned, digital currency.
[Source: BBC]
Russian Smartphone Hits Market
Who knows how successful it'll be, but if nothing else, Russia's first smartphone won't be mistaken for others.
The YotaPhone, which launched Wednesday in Russia and several European countries, has a pair of screens — one with a traditional LCD display, the other a sort of paper display akin to what's on the Amazon Kindle.
The device was developed by Russian startup Yota Devices and runs Android. It is selling for about $600 in Russia and $675 in Europe.
[Source:The New York Times]