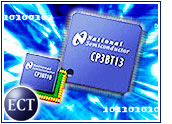 Digital this, digital that. What about analog? We are awash in a sea of zeroes and ones, and it's tempting to assume that analog electronics are set to become history. However, most digital devices still do require analog circuitry, so several companies have specialized in the design and manufacture of analog components. National Semiconductor, based in Santa Clara, California, is one of the major players.
The company's motto, "the sight and sound of information," provides a good clue to its focus on this market: Humans are analog creatures in an analog world. It takes analog systems to generate the interfaces we use to communicate with digital systems, and National Semiconductor supplies these analog systems for several vertical markets.
Wireless communication systems and handsets, PC components, digital cameras and car airbags all rely on analog components, as do computer keyboards, mice, flat-panel displays, Ethernet adapters, security systems, Bluetooth hardware, audio transducers and sound amplifiers. The list of products and uses seems almost endless.
Such diversity means that — compared with other technology markets — the market that National Semiconductor has been serving is relatively stable.
Cheap as Chips?
The analog chip market is worth about US$25 billion globally, and National Semiconductor says that its sales in the last financial year totaled more than $1.5 billion. Major customers include Samsung, LG Electronics, Sony, Ericsson, Nokia, Motorola and Dell, as well as processor makers Intel and AMD.
Based on its own 2002 figures, National Semiconductor is ranked third in analog market share. Overall, this places the company behind competitors Texas Instruments and Analog Devices, but ahead of Maxim and Linear Technology.
That is not to say the company has been immune to the general technology malaise. The last four quarters have been a mixed bag. The most recent quarter did show a loss, but one that the company attributes to special one-off charges caused by major restructuring.
This situation was no doubt aided by the relatively low cost and high margins (compared with digital product fabrication) of analog manufacturing. In fact, the company has just announced a stock buyback program of about $400 million of its shares.
National Perspective
Where does this often-overlooked player see itself in relation to its market and competitors? According to Suneil Parulekar, senior vice president of National's Analog Products Group, the company's uniqueness stems from the synergy of its intellectual property holdings, proprietary analog processes and manufacturing capacity.
Manufacturers, Parulekar told TechNewsWorld, typically create a first-generation commercial product using existing components. Later, they may seek to reduce cost and improve performance by redesigning and consolidating components.
"Any embryonic application starts with most of the analog circuitry appearing as building blocks," he noted. "Because the application is brand new, you don't know how consumers are going to adopt it or drive the volumes. You get the customer to select you by having a world-class portfolio of leading-edge building-block products. That is your starting point."
Then, noted Parulekar, the manufacturer must move from building blocks to application-specific products to an analog subsystem. "That's what we do that is so unique," he said.
See Spot Run
The growth of digital technology has actually resulted in a parallel expansion in analog subsystems. Take, for example, Microsoft's Smart Personal Object Technology (Spot). Delivering Web-style content to small portable devices using a dedicated FM radio frequency network, Spot requires analog chips for its FM transceivers.
National Semiconductor is making these chips for the first generation of Spot devices — soon-to-be-sold wristwatches being manufactured by Fossil, Citizen and the Finnish firm Suunto. The devices will hit the market this fall.
These products exemplify the manufacturing process Parulekar described. For the first Spot watches, National Semiconductor's chipset contained seven chips. Now the company is designing a custom chipset that will have only three or four chips — designed specifically for increasingly small space requirements.
Other high-profile initiatives are under way at National Semiconductor, too, including projects for image-capture devices — called CMOS sensors — that have undergone radical improvement in recent years. National recently partnered with developer Foveon to make a 32-million transistor sensor that can offer more than double the resolution of any other image-capture device.
Audio is another field that has seen rapid development in the National Semiconductor labs — most of it aimed at miniaturization and quality improvement. For example, the company soon will be releasing the Boomer — an audio amplifier no larger than a peppercorn — for use in portable audio equipment.
Back to Basics
The market diversity that has sustained the analog-circuit industry also contains pitfalls — some of them financial. "Investors have been a little skeptical, because [National Semiconductor] lacked a clear strategy," Tore Svanberg, senior semiconductor analyst at US Bancorp Piper Jaffray, told TechNewsWorld. "They were trying to do a little bit of everything for everybody."
One example was the company's ill-fated purchase of processor manufacturer Cyrix in an attempt to go head-to-head with Intel and AMD in the microprocessor market. Svanberg describes the purchase as "a very strange move."
But the company seems to be regrouping and refocusing. "I'm seeing a company that is now much more focused on its core competency," said Svanberg. "National generates some of the best analog engineers in the world. I think National is clearly signalling that they are going to focus solely on analog-mixed-signal technology."
National Semiconductor recently sold its Geode Information Appliance processor business to AMD — a move that rid the company of one of the last vestiges of its Cyrix acquisition. And many analysts, including Krishna Shankar, senior semiconductor analyst at JMP Securities, see this as a move in the right direction for the company. "Now they're sort of getting back to their roots," said Shankar.