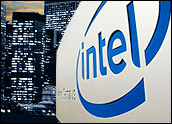 Intel released its new lineup of Quad-Core Xeon 7300 series processors Wednesday, throwing a punch at rival Advanced Micro Devices (AMD), which plans to release its own quad-core processor line, dubbed "Barcelona," early next week.
The new 7300 series from Intel can deliver more than twice the performance and more than three times the performance per watt over the company's previous generation dual-core products, Intel said. The improved energy efficiency of the 7300 series has processors that can run up to 2.93 GHz at 130 watts, with several 80-watt processors as well as a 50-watt version optimized for four socket blades and high-density rack form factors — coming in at 1.86 GHz.
The 7300 chipset with Data Traffic Optimizations provides a balanced platform design with several new technologies that enhance data movement between the processors, memory and I/O connections, Intel said, touting a 7300-based TPC-C benchmark score of 407,079 and a SPECweb2005 benchmark score of 30,261 on HP servers.
Leveling the Playing Field
"I think it's safe to say that Intel has made some great strides over the past year," Charles King, principal analyst for Pund-IT, told TechNewsWorld.
"Frankly, AMD's Opteron was a really terrific and transformative technology. If you look back to what was happening in the x86 space before Opteron, it was a 32-bit only platform, and that attitude was rabidly enforced by Intel, which basically was saying, 'If users really want 64-bit, they need to move to Itanium.' Not only did Opteron usher in the renaissance of 64-bit on x86 computing that we're in the middle of today, but it also had some amazing HyperTransport technology that you couldn't find on any other platform," he explained.
AMD's Opteron HyperTransport technology was groundbreaking primarily because it used a switched fabric instead of a shared bus — essentially a bottleneck — for linking processor-to-processor and processor-to-memory CPU communications, he said. Opteron, even though it's 64-bit, also ran older x86 32-bit applications without speed degradation. Intel's Itanium had a harder time running legacy 32-bit applications.
"In these newer chips, I think the most interesting piece, at least on the server side, is this HyperTransport-like interconnect technology that Intel is introducing," noted King.
"They are claiming it's faster, better, more scalable than HyperTransport, but I think it'll be wise for people to wait and see how the tests and benchmarks being done by independent groups show how it really stacks up. I also expect to see some improvements in HyperTransport in Barcelona," King added.
Intel's 'Penryn' Up Next
Next up on Intel's microprocessor roadmap is a server version of Penryn, the company's code name for its family of 45-nanometer processors, planned for release later this year. Intel currently delivers microprocessors at the larger 65-nanometer level, but the ability to shrink processors down to 45 nanometers will let the company deliver chips that run faster and burn less energy. Desktop and mobile Penryn-based microprocessors won't hit until early 2008.
Overall, King doesn't expect to see any drastic landscape-shifting technologies from either Intel or AMD in the near future.
"I think the two companies will be on much more equal technical footing at the end of the year then they have been since Opteron came out in the first place," he noted.