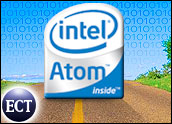 Intel has settled on a new brand name for its family of low-power processors, which formerly were referred to by the code names "Silverthorne" and "Diamondville."
Now dubbed "Atom," the new processors will find their way into low-power mobile Internet devices (MIDs) and ultra low-cost computers.
Atomic Level
Intel also announced the Intel Centrino Atom processor technology brand for MID platforms, which will consist of multiple chips designed for better Internet performance in pocket-sized devices.
"The two areas that Intel is aiming at is the small mobile device, and that's an intriguing market. It's not one that has taken off to the degree that anyone has hoped, but there are some signs that it's picking up a bit," Charles King, principal analyst for Pund-IT, told TechNewsWorld. The smartphone market, he noted, has been expanding at a good rate.
"The other product [Diamondville] is aimed at [is] the really low-end laptop/desktop market, and that's future generations of the Classmate PC. There's a strong sense there will be a market in developing economies for very low-cost but fully featured PCs and laptops. The trick will be manufacturing them so they can be sold for US$200 to $300," King said.
With Atom, Intel is betting that demand for a new category of low-cost, Internet-centric mobile computing devices, dubbed "netbooks," and basic Internet-centric desktop PCs dubbed, "nettops," will grow substantially over the next several years.
Inside the Atom
Intel says its Atom processor is based on an entirely new microarchitecture designed specifically for small devices and low power — but it maintains the Intel Core 2 Duo instruction set compatibility that consumers are accustomed to when using a standard PC and the Internet. The Atom design also supports multithreading for better performance. The chips measure less than 25 mm, making it Intel's smallest and lowest-power processor yet. To paint a picture, Intel says that up to 11 Intel Atom processor dies — the tiny slivers of silicon packed with 47 million transistors each — would fit in an area the size of an American penny.
Atom chips are processed with Intel's hi-K metal gate technology at 45nm, and their thermal design power (TDP) specification is in the 0.6 to 2.5 watt range but scales up to 1.8 GHz speeds. Intel noted that, in comparison, today's mainstream mobile Core 2 Duo processors have a TDP in the 35-watt range.
The Centrino Atom
For higher-end MID devices, Intel's Centrino Atom processor technology brand will take the lead. It's formerly codenamed "Menlow," and it includes the Intel Atom processor, a low-power companion chip with integrated graphics, a wireless radio, and thinner and lighter designs. They key value proposition, of course, is to allow new devices to access the Internet without guzzling battery power.
"The Atom design is all new on the inside. … A lot of times [manufacturers] say a design is all new when it's really not, but in the case of Silverthorne and Diamondville, this is a brand new design," Nathan Brookwood, principal analyst for Insight 64, told TechNewsWorld.
"Intel can get 2,500 of these chips on a single wafer, compared with 250 of their regular chips, and what that means is they could sell these for a tenth of what they sell the others for," he explained, noting that other factors, such as packaging and distribution, won't actually scale to such low prices.
"But clearly this is a chip that would let them sell these profitably into these devices that are going for $250 to $300. And that's pretty exciting," he added.