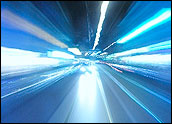 Intel has announced revised details for next-generation USB 3.0 technology, dubbed "SuperSpeed." The updated draft specifications for USB 3.0 software and hardware interface provide a standardized method for USB 3.0 controllers to communicate with SuperSpeed USB (universal serial bus) software.
The specifications give manufacturers and software developers something to work with as they prep for the transition. The specs also aid in establishing interoperability between devices from multiple manufacturers, an important step in terms of consumer adoption of USB 3.0.
The Intel xHCI draft specification revision 0.9 supports compatibility among various implementations of USB devices and will make it easier to develop software support for the industry, according to Intel. The documentation includes descriptions of the registers and data structures used to interface between system software and the hardware, which are developed to be compatible with the USB 3.0 specification under development by the USB 3.0 Promoter Group.
"The future of computing and consumer devices is increasingly visual and bandwidth-intensive," said Phil Eisler, AMD corporate vice president and general manager of the Chipset Business Unit.
"Lifestyles filled with HD (high definition) media and digital audio demand quick and universal data transfer. USB 3.0 is an answer to the future bandwidth need of the PC platform. AMD believes strongly in open industry standards, and therefore is supporting a common xHCI specification," he added.
Go Speed Racer
USB 3.0 is Intel's next-generation USB standard, providing 5 Gbps (gigabits per second) throughput, a tenfold speed increase over the current USB 2.0 standard. It reduces the amount of power the USB consumes by limiting the number of times a host contacts a USB device, such as an external hard disk drive, Brian O'Rourke, an In-Stat analyst, told TechNewsWorld.
The standard is set for final release in 2009 or 2010. With devices featuring USB 2.0 numbering around 2 billion, industry support is vital.
"As with the previous versions of USB, it does have industry-wide support throughout the PC ecosystem," O'Rourke noted.
SuperSpeed USB, however, will initially be aimed at higher-end devices that need increased bandwidth, including PCs, external hard drives and next-generation mobile phones with increased amounts of flash memory, he continued.
"These devices are increasingly offering more storage, and so [they] need a faster way to get data on and off the device. There will likely be devices that use USB that will not need all the bandwidth that SuperSpeed provides, including mice, keyboards and printers. However, over time as SuperSpeed USB becomes less expensive, more devices will add it," O'Rourke said.
FireWire or SuperSpeed USB?
USB technology was originally developed to complement Apple's FireWire, which operated at a much higher data rate than the first USB specification.
With Superspeed USB, however, the technology could provide higher data transfer rates than FireWire.
"SuperSpeed USB, with its increased bandwidth, is certainly a threat to newer versions of FireWire, including FireWire S800, S1600 and S3200, which deliver 800 Mbps (megabits per second), 1.6 Gbps, and 3.2 Gbps, respectively," O'Rourke said.
That said, however, it will not compare to the newest player in the data transfer market — high-definition multimedia interface, or HDMI.
"I do not expect SuperSpeed USB to threaten HDMI, a high-speed interface which is aimed primarily at CE (consumer electronics) applications, such as digital televisions, DVD players, and set-top boxes," O'Rourke pointed out.