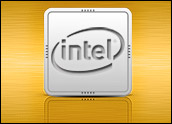 Intel announced Sunday it has made two important leaps with its new server and high-end PC processors: They are the first to use Intel's Hafnium-based high-k metal gate (Hi-k) formula for the hundreds of millions of transistors inside the processors; plus, they are the first to be manufactured on the company's 45-nanometer (nm) manufacturing process.
The advancements come in a new line of 16 different processor configurations under the Intel Core 2 Extreme and Xeon brands, with availability dates ranging from immediately to late December, depending on the model.
"Given Intel's so-called tick-tock cadence, where on the 'tick' they introduce processors on new semiconductor processes, and on the 'tock' they introduce new implementations of the processors at the time it'll be a proven process — so they switch between a new architecture and a new process — and these processors have been around for more than a year now. What's exciting is it's a new process — the 45nm technology," Nathan Brookwood, principal analyst for Insight 64, told TechNewsWorld.
"We're all used to things getting better every couple of years, but this time Intel had to overcome some really fundamental barriers, and the new 45nm is the first fundamental shift in the way they manufacture the transistors in close to 40 years," he added.
Intel's Hafnium Hi-k formula is the key to the shift, Brookwood said, noting that the previously used silicon dioxide method could no longer be shrunk effectively to achieve new performance gains.
Gamers and Enterprises
Intel is positioning is Intel Core 2 Extreme QX9650 quad core processor, which uses the new technologies, for the high-end game-playing market, and it "delivers more of the adrenaline that hardcore gamers and media enthusiasts demand," Intel boasts. "Enhancements such as a larger L2 cache and support for new Intel SSE4 media instructions help bring desktop performance to 'extreme' new levels."
The bulk of the new processors, however, are slated for Intel's dual and quad-core server processor lineup. Twelve new quad-core chips run from 2GHz up to 3.20GHz, with front side bus speeds (FSB) up to 1,600MHz and cache sizes of 12MB. Intel has three new dual-core chips, and they feature clock speeds of up to 3.40GHz with a FSB of up to 1,600MHz and cache sizes of 6MB.
Waiting on Nehalem
"These chips are basically the same chips that Intel had at 65nm except they have slightly larger caches and they run at slightly higher clock speeds — they translate into a 10 or 15 percent improvement for most users, which is nice, but certainly not enough to throw out your existing infrastructure," Brookwood explained.
"But next year … in the chips called 'Nehalem,' which are specifically designed for this 45nm process, there will be major shifts in architecture and major improvements in performance, and that'll be the time when end users can potentially get excited about the performance," he added.
Indeed, the shift in technology seems to be far more important than the increases in processing speed.
"I think in a way, the amount of PR that Intel has been putting out that the different Hi-k metal gate technology will change the marketplace is a bit overblown," Charles King, principal analyst for Pund-IT, told TechNewsWorld.
"Certainly the technology has some promise and should put off the eventual repeal of Moore's Law, but from a practical standpoint, the most interesting thing I've seen coming out of the early benchmark tests is that the Intel chips are delivering [only] moderate performance boosts over previous chips," he added. "What's really notable is that it's delivering that performance boost while consuming about 20 percent less power."
King believes the energy efficiency could be a real winner for Intel, particularly in the mobile computing space, which is most sensitive to power consumption.
More Goodies
Intel has added three new notable architectural features to the new processors, it said:
Enhanced Intel Virtualization Technology: Virtual machine transition (entry/exit) times are improved by an average of 25 to 75 percent through hardware, with no changes to software required, Intel said.
Fast Division of Numbers: A fast divider roughly doubles the speed over previous generations for computations used in nearly all applications through a technique called "Radix 16," Intel says. The ability to divide instructions and commands faster increases a computer's performance.
Unique Super Shuffle Engine: By implementing a wider 128-bit shuffle unit, Intel said performance significantly improves for SSE-related instructions that have shuffle-like operations. This feature will increase performance for content creation, imaging, video and high-performance computing.
Pricing of the 45nm Hi-k Intel Xeon processors depends on the model, speeds, features and amount ordered, and ranges from US$177 to $1,279 in quantities of 1,000. The 45nm Hi-k Intel Core 2 Extreme QX9650 quad core processor is priced at $999 in quantities of 1,000.