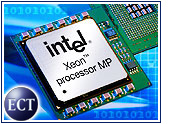 Dell and IBM plan to introduce servers with Intel's new 64-bit Xeon microprocessor, which allows greater memory capacity than 32-bit architectures.
IBM said it will begin on Monday rolling out eight new servers based on the Intel's new Xeon processor with 64-bit technology.
A 64-bit computer can accommodate a great deal of memory and can churn through chunks of data at a much faster rate than 32-bit architectures.
Seven of the eight servers will be available immediately while the eighth server will be available later this month.
Dell Shipping Xeon
Dell said it will begin selling two servers based on the chip starting Monday.
And by October, it will have two more servers based on the new chip.
Dell's servers will run on two processors and come preinstalled with Microsoft Windows Server 2003 or Red Hat Linux 3. They start at US$1,799 and $1,899.
Intel's new chip will be able to take advantage of 64-bit computing while still able to run current software programmed for 32-bit computers.
64-Bit Computing
The 64-bit feature is already available in another Intel chip, called Itanium.
Itanium, however, is built for high-end business applications and requires specialized software to run.
The new abilities of Intel's mainstream business server chip, Xeon, could accelerate the adoption of 64-bit computing in businesses.
Microsoft and Xeon
Microsoft is readying the final version of an operating system that will accommodate Intel's new Xeon, as well as Advanced Micro Devices' Opteron, which has similar features.
Though AMD has tended to play a catch-up role to Intel in chip advances, AMD's Opteron was first to the table with the ability to run in both 32-bit and 64-bit modes.