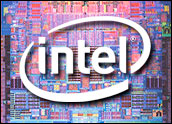 Intel touted its processor roadmap during its Intel Developer Forum (IDF) in San Francisco on Tuesday, and the company even showed off a working model of its 45 nanometer next-generation processor, dubbed "Nehalem," as well as functioning 32 nanometer chips.
In addition, the processor giant is gearing up to deliver its 45 nanometer family of Penryn x86 processors, which are based on Intel's high-k metal gate transistor technology, in November. Nehalem is set for release in 2008 at the 45 nanometer form factor, with 32 nanometer versions coming in 2009.
"Our tick-tock strategy of alternating next generation silicon technology and a new microprocessor architecture — year after year — is accelerating the pace of innovation in the industry," said Paul Otellini, Intel's president and CEO.
When Intel introduces Penryn in November, it will be the world's first high-volume 45 nanometer processor. Penryn, along with the Silverthorne family of 45 nanometer processors — coming next year — will be built for a variety of computers, from handheld Internet machines to high-end servers. Intel says it will introduce 15 new 45 nanometer processors by the end of the year and another 20 in the first quarter of 2008.
"We expect our Penryn processors to provide up to a 20 percent performance increase while improving energy efficiency," said Otellini. "Intel's breakthrough 45 nanometer silicon process technology allows us to provide low-cost, extremely low-power processors for innovative small form factor devices while delivering high-performance, multi-core, multi-featured processors used in the most advanced systems."
Showing Off Nehalem
The Nehalem dual processor that Intel showed off at IDF uses the element hafnium instead of silicon in portions of the 700 million-plus transistors inside the processor die, which is about the size of a postage stamp, the company said. Hafnium, along with other enhancements in overall system level architecture, will help reduce energy consumption.
The biggest question with any new architecture or technology is whether the company can deliver what it says it will deliver. Is Intel really on track, or is the clock just ticking?
Smoothly Oiled Machine
"Intel is setting expectations well, and they are meeting those expectations in terms of products — they are kind of in 'machine mode' now," Rob Enderle, principal analyst for the Enderle Group, told TechNewsWorld.
"The expectation is they will deliver Nehalem on time, and it'll do pretty much everything they're saying it would do. Right now much of the products are actually cooked, so the likelihood of Intel missing with either offering [Nehalem or Penryn] is pretty remote. They are not showing any of the disorganization they've showed in the past," he explained.
Passing AMD?
"In the space where Intel plays against AMD's Opteron, Intel has been clearly lagging technically behind AMD for three years now — ever since Opteron hit the market — and with Nehalem they seem to have caught up and surpassed AMD a bit," Charles King, principal analyst for Pund-IT, told TechNewsWorld.
"I would be very interested to see how the two chips will stand up next to one another when they are tested by an objective testing group that doesn't have an axe to grind with either company," he added.
More Than Hardware
Especially as Intel and other companies move more fully into the multithreaded world, the point that people need to remember an important point, said King. Although there will be some general improvements in performance on applications, full optimization of application performance really depends on how well application developers adapt to changes in chip architecture, he asserted.
"It brings up a very interesting point as the processor vendors head down this road. What efforts are they are making so that key independent software vendors are able to follow them? And that, at least from some of the things I've been seeing come out of the IDF, hasn't been addressed very clearly," King explained.
"It's really been more of a kind of 'Nehalem hardware lovefest,' but the optimization of application performance is a point that people need to remember as time goes on," he added.