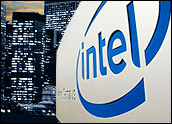 Intel unveiled its mobile strategy Wednesday at the Intel Developer Forum in Beijing.
Personalization and content are key drivers behind the increased demand for notebook PCs and mobile Internet devices (MIDs), according to Intel executives David Perlmutter and Anand Chandrasekher.
"The Internet is one of the driving forces in today's PC market, and there is a desire for the Internet to be mobile," said David Perlmutter, senior vice president and general manager, Intel Mobilitiy Group. "Intel is serving the market today with notebook PCs, and will expand its reach by adding WiMax to notebooks as well as small form factor MIDs in 2008."
Anywhere Internet
For mobile users, high-performance processors are a must-have for them to access the Internet on the go, Perlmutter stated. Intel's next-generation Centrino processor technology, dubbed "Santa Rosa" and based on innovative silicon technology, delivers the energy-efficiency and great battery life necessary for on-the-go users, the company said.
Santa Rosa, available in May, sports a next-generation Intel Core 2 Duo processor, the Mobile Intel 965 Express chipset family, Intel Next-Gen Wireless-N Network Connection and Intel 82566MM and 82566MC Gigabit Network Connections. Intel Turbo memory is an optional component that Perlmutter said decreases resume time from hibernation and therefore increases productivity and reduces system power consumption.
Come 2008, Intel plans to refresh the Santa Rosa with its 45-nanometer (nm) Hi-k dual core mobile processor, codenamed "Penryn." Later in the year, Perlmutter said, Intel will begin offering its Montevina processor technology also with Penryn, for enhanced performance and energy efficiency. Montevina, with components some 40 percent smaller, will power mini- and sub-notebooks or ultra mobile PCs (UMPCs) and will include an integrated hardware decode for high-definition video.
"45 [nanometer] process technology will enable these devices to run faster and at reduced power," Dean Freeman, research vice president at Gartner Dataquest, told TechNewsWorld. "This allows for a smaller form factor and longer battery life. As power consumption and convenient form factor are two key items for consumer adoption it is likely the 45 [nanometer] node will help to increase the adoption of these consumer applications."
Intel has also apparently kicked 3G technology to the curb. Instead, the chipmaker is going with WiMax. For the first time, according to the chip maker, Intel will make its integrated WiFi/WiMax solution available as an option for Montevina-based notebooks. It will provide users with the ability to connect to WiFi and WiMax networks around the globe.
Mobile WiMax offers multi-megabit speed, greater throughput and wider range compared to other wireless broadband technologies that is crucial as consumers demand access to user-generated content, high-definition videos, music, photos and other large data files while on the go, Intel said.
Ultra Mobiles
Changes in Intel's silicon road map will create radical reductions in power requirements and innovative new packaging technology, Chandrasekher, senior vice president and general manager of the Ultra Mobility Group, said. Intel, he explained, is working with a variety of "leading industry players" to establish the MID and ultra-mobile PC (UMPC) categories.
The Intel Ultra Mobile Platform 2007, formerly codenamed "McCaslin," for MIDs and UMPCs will be available during the summer from Aigo, Asus, Fujitsu, Haier, HTC and Samsung. The technology is based on the Intel processor A100 and A110, the Intel 945GU Express Chipset and the Intel ICH7U I/O Controller Hub.
"Today's environment is primed for a truly personal, mobile Internet experience and the Intel Ultra Mobile platform 2007 combines the flexibility of a PC with the mobility of a handheld device," Chandrasekher said. "But we will not stop here. In 2008, Intel will deliver an entirely new platform based on Intel's 45 [nanometer] low-power micro-architecture designed from the ground up to let people carry their personal mobile Internet in their pocket."
Intel will begin offering its next-generation platform for MIDs and UMPCs, codenamed "Menlow," in the first half of 2008, according to Chandrasekher. The chip will be based on a new 45 nanometer Hi-k low power microarchitecture-based processor, codenamed "Silverthorne," and next-generation chipset codenamed "Poulsbo."
Unfolding Origami
The Ultra Mobile 2007 technology is designed to power devices such as Microsoft's Origami, running Windows Vista. However, in 2008, Intel plans to launch UMPCs and MIDs that run Linux. Red Flag Linux and Canonical (Ubuntu) are the first to sign up for the Silverthorne-powered devices.
The new technologies will lead to devices that are "super iPods," Rob Enderle, principal analyst at Enderle Group, told TechNewsWorld. "These are devices more like super iPods that can do video, gaming, some e-mail and Web surfing, but are primarily focused on entertainment and Web activities than they are productivity."
Since MIDs and UMPCs hit the market, adoption has so far been lackluster, in part because the devices have not lived up to their ultra mobile computer hype. However, Intel's announcements could lead to widespread uptake by consumers as it will enable device makers to fulfill expectations.
What Intel is trying to do is offer a portable device with decent battery life. Until now, Enderle explained, battery life and capability were sacrificed in smaller devices.
"Look at how cell phones and the iPod are evolving — they are coming up from devices with limited technology," Enderle said. "What Intel is doing is taking the crucial PC side down so that somewhere in the middle we'll have that perfect portable device that can do what we need it to do."