Internet-delivered television was once thought of "disruptive," but it looks like it's about to be firmly adopted by common television programming suppliers worldwide and incorporated into their delivery systems. Looking around at the IP&TV World Forum, I'm seeing a whole bunch of monkey wrenches sitting on the sidelines.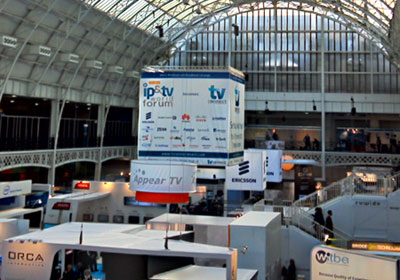 I'm at the stunning Victorian-era Olympia exhibition hall in a surprisingly sunny London. The three-day Internet Protocol Television Show is the must-attend event for this technology.
Up to now, this technology has meant television delivered through Internet pipes rather than over the air or via classic cable and satellite systems. The word here is that this is the year it's finally all going to happen — the year television and the Internet merge.
However, if the monkey wrenches I'm looking at have anything to do with it, that merge is likely take a form quite from the early predictions. Monkey wrench No. 1 is smartphone and tablet as the second screen. Monkey wrench No. 2 is the Android OS.
Second Screen Monkey Wrench
"The second screen is the way people want to interact with the television," said Shazam's Iain Dendle, business development director for Europe, during his presentation.
That idea was never in the IPTV plan, from my recollection of the rhetoric over the last few years.
It has generally been thought that TV over IP was going to be a simple matter of augmenting existing TV with video-on-demand (VOD). The scores of exhibitors here with hardware solutions that do just that, and only that, is a testament to that thinking.
Shazam's product, which provides on-screen calls to action during commercials, relies on the iPads and smartphones you tote around, as do Twitter, Facebook and so on.
Tablet as Remote Control
Taking things one step further, we're about to see the mass adoption of the tablet as remote control, pointed out Mihai Crasneanu, CEO of Grey Juice Lab.
From a hardware perspective, that blurs the line between "television set," as in TV and remote, and tablet. Following Crasneanu's thinking here today, the tablet could end up being the TV, and the TV could end up being a monitor — or variations on that theme. What happens to all the VOD boxes here is anyone's guess.
Show Darling
Wandering the exhibition aisles during a session break, I stumbled across the clear show darling. The Hansun stand couldn't have been farther from the main sponsor stands — like Siemens, Intel and Motorola — as it was tucked away in a corner next to a fire escape. The product: Android Bar, a cute little smart TV set-top box — about the size of a candy bar — that simply runs plain vanilla Android 2.3 and incorporates a camera.
I didn't see it function due to the appalling event-supplied WiFi. However, if it does what it says on the box, this is the product of the show. Lucy Qin, international business manager for Chinese Hansun, told me that Android Market, now called "Play," was functioning on it earlier — although again, I didn't see it.
However, even if you had to side-load apps and for resolution reasons couldn't go much beyond displaying apps on a mid-to large TV rather than on a gigantic TV, I'd want one.
As do others, it seems. Qin said a number of attendees — presumably plain old VOD box makers — have dropped by her out-in-the-cold stand asking if they could take one home today. Amusing, considering the nature of the event.
Expect to pay a hundred dollars at U.S. retail vendors, which Hansun doesn't have yet. Fry's Electronics, are you reading?