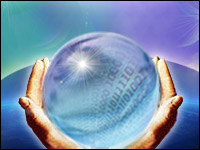 I'm attending the IP&TV World Forum, aka the Internet Protocol Television Show, at the Olympia exhibition hall in sunny London.
I have been checking out technologies being deployed in Europe that we may be seeing state-side very soon. HbbTV is a hybrid television delivery system available now in some European countries that combines synchronized broadcast with broadband.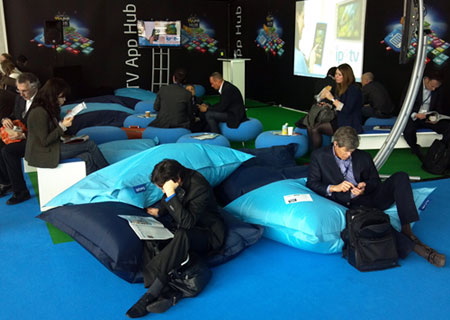 Overworked TV executives relaxing at the TV App Hub
Hbb-Next — the incarnation currently in development — is taking UI (user interface) and second screen (tablet and smartphone) incorporation very seriously.
Some of the things the Hbb-Next team is working on include an electronic program guide EPG) that is being tested with facial, gesture and speech recognition, as well as common remote control.
Gesture control is great for fast forward and scroll but physically tiresome for search, according to scientist Oskar van Deventer, work package leader for the Hbb-Next project. Speech tested reasonably well for search, although it was error-prone, and the remote control was "most favored" for a combination of tasks.
Facial EPG
One thing that is causing some head-scratching is the challenge of figuring out EPG customization using facial recognition for family members, specifically in family groups that may have different desired programming for each individual.
There is interest in Hbb-Next and its standards in the U.S., van Deventer said during his presentation.
Opera Browser
Set-top box makers here are scrambling to add perceived interactive value to their boxes. At the top of that list are TV apps and a Web browser.
The Web browsers I'm seeing are not much different from the one panel or tabbed standard Web browser that we see on PCs and tablets — with the exception that they are significantly slower and clunkier to use because the universally sub-1 GHz TV set-top boxes all lack processor power.
Opera, known for its data-caching mobile browser, supplies much of the TV Web browser software here, and I was delighted to be able to sit down and grab some time with Opera's Frode Hernes, VP of products, TV and connected devices, who ran through his ideas for the next-generation on-TV Web browser.
A multiple-screen toggle for the browser is key to Hernes' plans. The killer screen he talked about — and drew out for me, scribbled on the back of a business card — is a simple television image taking two-thirds, or a little more, of the right of the screen, along with a thin vertical strip on the left side of the screen for Internet content. Think feeds, like a Twitter feed. I think this real estate split would be ideal for RSS feeds of podcasts and so on, too.
The toggle allows you to place the Internet content in a small box movable to anywhere on the screen — top left corner, full screen, and so on.
The iPad
An IPTV tech show report wouldn't be complete without mention of the Apple iPad and its apparently massive effect on mobile television. The universal word here is that iPad is the principal driving force behind adoption of mobile television viewing habits.
Orange's TV Everywhere product is seeing twice as much television being consumed on iPad compared to iPhone, for example, according to Jean-Marie Torrnet of the Orange Experts Community think tank.
The Numbers
Surprising new figures from Informa Telecoms and Media released here indicate that the U.S. will have 14-million paying IPTV subscribers by 2016, making it the biggest paying IPTV territory.
These are unusual numbers, given that classic cable and satellite are well entrenched in the U.S., and IPTV has recently been seeing most growth in regions without a developed market, like Asia Pacific. Informa credits this projection to strong triple-play package deals, as well as poor relationships between cable operators and customers.