I'm surrounded by screens here at the Olympia exhibition hall — tablet-sized, big screens, you name it — and they all connect with each other. It's day three at the IP&TV World Forum, or Internet Protocol Television Show.
The lowly remote control can soon be buried under the sofa cushions for good, judging by the offerings from set-top box manufacturers here.
Remote Controls
I don't mean that the remote is simply being replaced by what's called the "second screen" — often an iPad or phone. These makers are offering OTT (over the top) and other television delivery products complete with multiple tablet-like devices for remote control.
The remotes are essentially tablets, although generally geared towards TV rather than for multipurpose portability.
Sagemcom's Solutions
I was particularly impressed by Sagemcom's line of Android tablets that neatly tie into its multiscreen set-top boxes.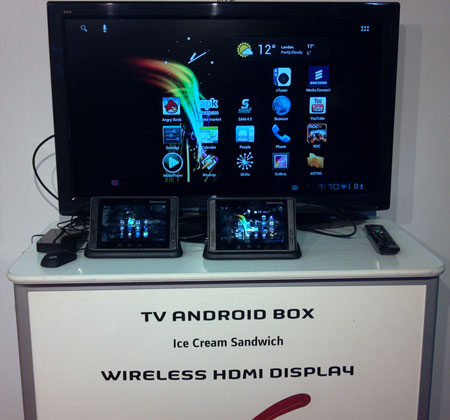 Sagemcom's HDMI Android Multiscreen Product
I was able to seamlessly choose YouTube videos on the smaller screen, which is designed to be held in your lap, and the output was viewable on the wall-mounted big screen.
This concept is clearly the way of the future, and it's going to be an interesting shootout between a la carte tablets that you'd purchase in a consumer electronics environment, like the iPad, and disparate own-brand devices delivered as part of an IPTV consumer solution.
Social Networks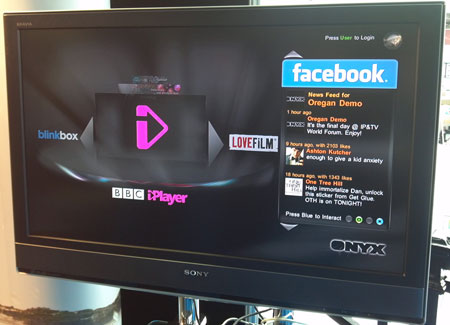 An on-demand product married with social networks.
Social networks are all over this show too, with the TV app being incorporated in most of the new set-top devices that I'm looking at here.
Opera's HTML5 TV app store is a Google Play-like product, and I'm seeing numerous offerings of Facebook and Twitter incorporated into the solutions around the exhibition floor.
The Processor Problem
One apparent problem is that the box processors can't handle the complexity of this added value, and that's not even taking into account the increased number of transcoded streams that the companion screen technology needs to deal with at the network.
Box makers have historically sold underpowered devices — often under half a gigahertz. Compare that to a basic PC at 1.3 GHz or so, and you can see where the hiccup's coming from.
Are IPTV providers going to spend the money on the box to match consumer expectations — and if not, who will?
Quality of Service
A continuing theme here is who's paying for what? A quality-of-service blame game we've historically seen at the ISP level doesn't look like it's anywhere near being over.
In a panel on "Taking Responsibility for the Connected Home," Romtelcom Product Development Manager Irma Mihalascu Cazacu said that her help desk would not get into troubleshooting every kind of device a customer may be using.
The quality of a stream can become beaten up over distances by multiple layers of fiddling with, known as transcoding, Ian Jefferson, vice president of strategic alliances and business development at Harmonic, explained to me. An example he gave was a sports TV stream that gets a crawl added at its destination.
Although quality is of the utmost importance in Jefferson's view, he noted that viewers"will seek out and find what they want to watch, and will settle on the best they can find, even if isn't the best quality."
For example a viewer will likely watch a home-town game at whatever quality is available, even if it's poor.
Audio Issues
Interestingly, Jefferson said that audio quality was more important than you'd think.
In tests using the same video with differing audio quality levels, consumers indicated the clips with the better audio had superior video.