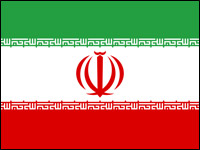 Facebook and Twitter were widely available to Iranian netizens on Monday. Come Tuesday, however, things were back to normal: The sites were blocked.
Iran's Mehr news agency reports that faulty Internet filters caused the sites to become available — not some newfound progressive streak in Tehran.
Western-born social media sites were blocked (and never unblocked) during protests over former president Mahmoud Ahmadinejad's election victory — his disputed election victory — in the summer of 2009. Protesters used social media to organize and, well, that was that.
Earlier this month, news broke that Iran's cabinet members had been implored to open Facebook accounts, despite restricted access to the site throughout the country.
New Iranian president Hassan Rohani has vowed to be more open than his predecessor, so Iran's social media scene is worth keeping an eye on.
[Sources: Radio Free Europe Radio Liberty; Reuters]
Amazon UK Botches GTA Embargo
Let's hope Rockstar is more forgiving than the characters in its video games.
Amazon.co.uk delivered copies of Grand Theft Auto 5 — the latest in Rockstar's murder-spreeing GTA series — ahead of the official Tuesday launch, breaking an embargo imposed by the game creator.
Some customers received GTA days before it should have been delivered. Amazon claims only a "small number" of customers got their hands on the game early, but a spokesman for the video and entertainment site IGN.com said that hadn't stopped people from posting spoilers on the Web.
Last month, Sony apologized to Rockstar after audio from GTA 5 leaked online.
Between development and marketing, some experts hypothesize that GTA 5 cost Rockstar as much as US$265 million. Not to fret: The same experts think it could rake in $1.5 billion.
[Source: BBC]
Australia to Ban Outdated Wireless Microphones
Australia's communications regulator said that come 2015, it will be illegal to use wireless microphones that transmit a certain frequency.
Wireless microphones that transmit between 694 MHz and 820 MHz will become illegal because those frequencies have been sold to mobile network operators, which will take ownership on Jan. 1, 2015.
Groups will reportedly pressure the government to help an estimated 150,000 wireless microphone users upgrade their mics. A lobby group called the Australian Wireless Audio Group said it would cost north of A$200 million to replace all these microphones.
[Source:Fairfax Media ]
Netflix Does Market Research With Pirates
Netflix's vice president of content acquisition, Kelly Merryman, said that the company uses piracy rates to determine, at least in part, what content it will carry. Merryman made her comments to the website Tweakers, which is based in the Netherlands, home of Netflix's most recent expansion.
The company hopes to convert people who current rely on BitTorrents, Netflix CEO Reed Hastings said in a different interview, adding that BitTorrent traffic dropped by 50 percent in Canada after Netflix launched there three years ago.
[Sources:Tweakers; TorrentFreak]
London Museum Adds 3D Guns to Its Arsenal
London's Victoria and Albert Museum acquired two copies of the world's first 3D printed gun.
The museum is displaying the guns as part of a collection of 3D objects for London Design Week. One of the guns is disassembled to show its components.
The 3D pistol, dubbed "Liberator," was invented by Cody Wilson, a law student from Texas. He described the weapons as "articles of political thought-practice."
[Source:CNN]