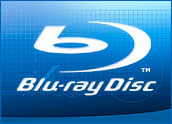 When HD-DVD maker Toshiba conceded the high-definition DVD format war in February, Blu-ray's backers may have hoped that sales of the Sony-championed format would see a big boost. However, while Blu-ray may have triumphed over HD-DVD, sales for the device have not exactly skyrocketed.
An April 30 report from The NPD Group, a U.S. sales tracking firm, found that standalone Blu-ray players sales dropped 40 percent from January to February and grew a minuscule 2 percent from February to March.
Where Blu-ray sales remain fairly stagnant, the number of videos viewed online, on the other hand, topped more than 10 billion in the U.S. in February alone, according to comScore, an Internet tracking firm. That was roughly 6 billion more videos than Internet users watched during February 2007.
As video content owners continue to seek and develop distribution outlets online such as Hulu.com, Apple's iTunes, Amazon's Unbox, etc., the challenge confronting Sony's Blu-ray grows.
"Blu-ray has won one battle, but they've gone straight into another one — one that is going to be much more difficult for them to overcome and that is going to have an impact on their business, because consumers are embracing digital distribution," said Mike Goodman, a Yankee Group analyst.
The question consumers have to ask themselves is whether it's worth it to buy a Blu-ray player. Devices like Apple TV, the Xbox 360 and the Netflix Player by Roku offer consumers the ability to download videos they can watch on their TV. That combined with the high prices of the Blu-ray players and discs can cause a consumer to consider taking a pass on the high-def disc player.
Digital Downloads
As the numbers from comScore illustrate, people are growing more comfortable with digital downloads. Nearly three-quarters, 72.8 percent, of the total U.S. Internet audience viewed online videos, according to the firm; just over 80 million surfers watched 3.42 billion videos on YouTube.com in February.
Video downloads are also booming. A survey by the Pew Internet & American Life Project released last year found that 74 percent of those online who had a high-speed Internet connection at home and at work said they watch or download videos online. More than half, 57 percent, said they watch or download video during a typical day.
A recent Yankee Group report, "Will Blu-ray's Victory Be Short-Lived?" found that consumers have downloaded hundreds of millions of TV shows, music, videos and movies from portals such as iTunes, the Xbox Live Marketplace, Amazon's Unbox, Movielink and CinemaNow.
Digital or Physical?
Consumers have long exhibited a preference for physical forms of media, and they just love those shiny round disks, said Anton Denissov, another Yankee Group analyst.
"Disks are very versatile. They are very easy to use. They are very portable. I can take a disk to my friend's house and play it on his TV. If you have a DVD library, you can easily scan that looking for a DVD. You can't do that with digital content," he explained.
In addition, Internet service providers (ISP) sometimes penalize subscribers who use a lot of bandwidth.
"In the U.S., no service provider has a clearly articulated bandwidth cap, how much a user can stream or download per month. But every service provider reserves the right to manage their network, and as consumers get into high-def video, high-def streaming and video phone calls, they will start bumping into those issues frequently," Dennisov told TechNewsWorld.
However, research shows an increasing willingness to accept digital formats, Goodman said.
"Digital distribution affects two markets: rental and sell-through. We predict there will be a much more significant impact on rental than sell-through market. For sell-through, where people are more apt to want something physical in their hand, by 2012, 5 percent to 15 percent of the market will be by electronic distribution," he explained.
The research firm predicts that electronic distribution will see significant growth over the next five years with video on demand (VoD) replacing trips to the video store to rent DVDs. In fact, by 2012, VoD via cable, satellite, telcos and the Internet will account for 30 to 50 percent of rental revenue.
Wallet Whopper
Adding to Blu-ray's struggle are the high prices that players currently command. A Blu-ray player can typically cost anywhere from about US$200 for an older model to $1,000 or more.
"For some people, they can justify [paying the price of a Blu-ray player], for others they can't," said Steve Wilson, an analyst at ABI Research.
Mainstream consumers who don't need to have the latest technology will wait until the device reaches a price point they can afford, he said.
"Mainstream consumers are not going to spend several hundred dollars for a Blu-ray player when for $100 they can get an up-converting standard DVD player, which will produce a very good picture. It may not be as super high-quality as a Blu-ray player, but it will be good enough to justify not purchasing a Blu-ray player," he told TechNewsWorld.
For consumers who have a high-definition TV and want a Blu-ray player, the best value is the PlayStation 3 (PS3), according to Wilson.
"It is the best investment for playing Blu-ray discs. That's because it is a platform that Sony has designed to be a more open, more upgradeable platform. Whereas the standard Blu-ray set-top box … players really aren't designed that way. So a lot of people are buying PS3s," he pointed out.
Wilson predicts that in 2008, the PS3 will make up more than 85 percent of the Blu-ray players in homes across the U.S, and sales will continue to grow.
Sony's announcement in April that it plans to launch a movie download service for the PS3 makes the gaming console even more attractive, plus they get twice the entertainment value and are able to play video games, added Yankee Group's Goodman.
Many Choices
As video distribution technologies advance and bridge the gap between the PC and TV set, consumers will have even more options for downloading video. The introduction of the Netflix Player by Roku attempts to give the site's subscribers VoD access to the Netflix library.
Priced at about $100 the set-top box enables Netflix users to instantly stream video to their TVs, choosing from 10,000 films and TV episodes. Subscribers simply make a selection from videos available, and the titles show up in their "Instant Queue." Once in front of the TV, they select the television show or movie they want to see and it will begin playing.
HP's MediaSmart TV goes even further and completely removes the need for a middle man. The HD TVs include an Ethernet port and also support 802.11a/b/g/n WiFi networks, giving users the ability to connect to the Internet and download content directly to the television.
In end, though, whether consumers go out and buy a Blu-ray player depends on whether they want to spend the money for a top-of-the-line HD experience.
"You buy the Blu-ray player because you absolutely positively have to have a high-definition. There is no other player out there that will give you a true high-definition format," Goodman said.
However, he added, most people cannot easily discern the difference between a 720p HD picture and a 1080p image unless they are a "true aficionado."
"If it's a damn good picture, then it's a damn good picture, and there aren't too many people who will be able to tell the difference," he said.
"For most users, an upscaler or the PS3 are good enough. I can't see the need for a [standalone] Blu-ray player," he concluded.
---
This story was originally published on May 29, 2008, and is brought to you today as part of our Best of ECT News series.
---