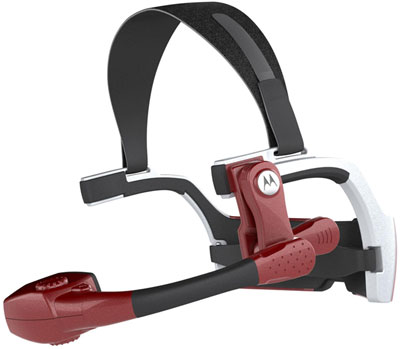 This new device category is a head-worn, mobile computer headset with full voice, audio and PC capabilities, leveraging Kopin's advanced system and micro-display technologies to create a virtual 15-inch monitor that supports simulation software, streaming video on-demand and other large-screen enterprise applications.
Motorola announced Wednesday that it will develop a hands-free wireless computing headset with micro-display specialists at Kopin — a move reminiscent of previous attempts to create wearable computers and communications devices.
The device will offer voice, audio and PC capabilities on a virtual reality-style 15-inch monitor that will also support simulation software and streaming video.
"We believe this computer headset will be a game-changing solution for mobile workforces," said Motorola emerging business director Tom Bianculli in a prepared statement. TechNewsWorld's attempts to contact Motorola were not successful.
Golden Eye
From cellphones to car stereos, hands-free operation has been all the rage for years. However, widespread adoption — where virtual computers are concerned — has been elusive.
"Historically, users haven't liked the end product," Enderle Group principal technology analyst Rob Enderle told TechNewsWorld.
Code-named the "Golden-i platform," the Kopin/Motorola offering hopes to change history with Bluetooth and WiFi enabled gesture- and voice-recognition technology.
Golden-i's micro display appears as a virtual 15-inch, 24-bit color monitor built around Microsoft Windows Embedded CE 6.0 R2 operating system and Texas Instruments OMAP 3530 mobile dual processor.
"Golden-i provides a full 128-bit encrypted link to your PC, so you instantly see your own PC screen, full size, 18 inches from your eyes," Golden-i program manager Jeff Jacobsen told TechNewsWorld. "You can use every application and open any document on your PC remotely."
Linux Rejected
Kopin researchers tested Golden-i with Linux, but ultimately decided on Microsoft Windows CE because Linux has limited support.
"Unfortunately, we discovered Linux is not a well controlled environment, and most third-party hardware and software either needs to be highly modified or may not work with Linux at all," Jacobsen said. "All of our major product development partners, such as Motorola and Texas Instruments, were extremely pleased when we migrated from Linux to Windows CE 6.0."
The move allowed Golden-i access to Vista media technologies such as SideShow, Gadgets and Silverlight. The company also developed a Win32 API-based Software Development Kit for third-party application construction. Software developers can take advantage of the $2,500 kit — which includes Kopin's communication headsets — in January, Jacobsen said.
A Little Seasickness
Golden-i achieves gesture control through three gyroscopes and three accelerometers, a PC version of the motion-sensitive devices that keep the Segway human transporter upright.
Golden-i users can zoom in or out, pan, and scroll with voice commands or head movements. A user, for instance, might turn to pan and see the rest of an enlarged image.
That head motion, however, has drawbacks. For instance, it can make users nauseous, Enderle warned.
"The virtual monitor dissociates eye and head movement, which makes eye focusing and hand use difficult," he explained.
Mission Possible?
Hyped with inevitable comparisons to Tom Cruise's Mission: Impossible sunglasses, Motorola in 2005 announced wearable communication device partnerships with sunglass maker Oakley and snow gear maker Burton.
Touted as promising "evolutionary and innovative products for consumers who want hands-free, un-tethered operation of their electronic devices," the partnerships have yet to deliver much more than standard fare.
On its company website, Oakley's offerings are limited to MP3 and Bluetooth cellphones embedded in sunglasses. Burton's electronic gear is limited to tools for the tech-savvy skier.
Motorola, however, expressed higher ambitions: a seamless cloud perched atop a user's head that would link cellphones, PDAs, and computers without additional devices. Users would never be out of touch, never be unconnected, and never have to flip a switch.
The reality, Enderle explained, has been more impossible mission than mission possible.
"With few exceptions, these hands-free computers look geeky and have been very expensive," he explained. "The medical community has used them successfully for some types of remote operations, but for the rest of us, they've proven mostly a costly headache."
Golden-i promises a different experience, Jacobsen emphasized. "The Oakley device was simply a Bluetooth interface for speech," he said. "Golden-i is more than your PC notebook and your cellphone combined."