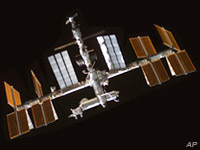 A humanoid robot named "Kirobo" has had a chat with a Japanese astronaut on the International Space Station.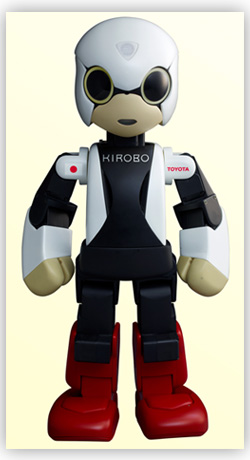 The robot, also from Japan, is designed to process questions and construct answers from its vocabulary bank, as opposed to regurgitating preprogrammed responses.
When asked by astronaut Koichi Wakata if he could handle zero-gravity conditions, the robot replied, "I'm used to it now, no problem at all."
There were some awkward pauses during the chat — looks like Kirobo's not quite ready to go on dates — but the robot did show some wit, telling Wakata that he wanted to ask Santa Claus for a toy rocket.
The robot traveled to the ISS aboard a cargo transporter this summer and should return at the end of next year.
[Source: The Associated Press]
Spain Fines Google Over Privacy
Spain is the newest European thorn in Google's side, having levied a US$1.24 million fine against Google for a trio of breaches of law.
As with Germany, France and others, Spain's primary gripe with Google, which owns a 90-plus percent share of the search market in Europe, is privacy. Specifically, Spain penalized Google for gathering data on users; combining data gathered from different services (YouTube, Gmail, Google Search, etc.); and keeping data indefinitely without first getting consent.
Google is studying the fine and mulling its next step.
Five other EU countries have launched investigations into Google, and that's not counting the 3-year-old antitrust case that the European Commission is still pursuing. While fines from the EC could be prohibitive — 10 percent of global annual revenue — the fines being issued by individual nations are, well, piddly. Germany fined Google $200,000 in April, and France threatened a similarly small fine in June.
The reason for Germany's small fine, and presumably these other countries as well, is that European regulations cap the amount of money companies can be fined for data breaches. Perhaps realizing that $200,000 (or even $1.2 million) is next to nothing for Google, the EU is working to increase the potential penalties.
[Source: The Wall Street Journal]
Bad Week Gets Worse for BTC China
Hackers have developed malware designed to siphon dough from Bitcoin exchanges, including BTC China, the largest Bitcoin exchange in China.
The nuts-and-bolts: A "Zeus P2P/Gameover variant" was discovered by Trusteer, an IBM-owned transaction security outfit. The variant, according to Trusteer, hangs low until a user attempts to log into BTC China, at which time it steals the username and password.
It's been a wild week for BTC China, and for all the wrong reasons: Beijing on Wednesday announced that BTC China and other domestic Bitcoin exchanges could no longer accept new deposits in the local currency, a move that caused a plunge in Bitcoins' value.
[Source: Trusteer via The Register]
EU Passes Deal on Common Charger
European regulators passed a provisional deal — which is not a hardened regulation, but a step in that direction — that would require mobile phone makers to provide a standard battery charger.
The outline agreement now must be endorsed by the European Parliament and the EU's 28 member states. If that happens, it would be implemented in 2017 or so. The member states would have two years to mesh the regulation with national laws, and manufacturers would be given an additional year to comply.
[Source: Reuters]