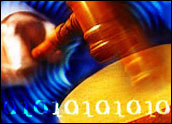 Jack McClellan, the self-professed pedophile who has attracted international attention for his Web site with pictures of kids and tips for other pedophiles, is now barred from coming closer than 30 feet of any minor in California.
Los Angeles Superior Court Judge Melvin Sandvig on Friday placed a temporary restraining order against McClellan, who admits he is attracted to young girls but has never been arrested for any related crime.
Under the order, McClellan is also forbidden to contact any child under the age of 18 in any way, including e-mail and messaging; he may not loiter in areas where children congregate, such as parks and playgrounds; and he may not photograph or videotape any child without written parental consent, according to the Los Angeles courts public information office.
An Aug. 24 hearing is scheduled to examine the matter further.
Parental Watchdogs
McClellan has drawn the ire of parents and Internet safety advocates across the continent since a newspaper in Seattle, where he originally lived, published an article about him earlier this year.
That story was picked up by Fox News, and public outcry soon led McClellan to move to Los Angeles, where he reportedly now lives out of his car. In a situation right out of the movie "Little Children," numerous parent groups are trying to monitor his movements, even listing sightings on Web sites such as www.jackmcclellan.com, which was set up by a disgusted parent to combat McClellan's influence.
McClellan's own Web site, meanwhile, was shut down by his Internet service provider.
'Prior Warning'
In addition to striking terror into the hearts of parents everywhere, McClellan's case is testing the rules and limits of the First Amendment. Children's advocates, of course, want to see McClellan kept away from kids, and many claim victory in Friday's restraining order.
"As with any pedophile, there's always a first time," Teri Schroeder, CEO of i-SAFE, told TechNewsWorld.
"He may say he doesn't plan to do something, but when somebody has those tendencies, there's a very high probability that sooner or later, just talking about it will not suffice anymore," Schroeder explained. "When that happens, somebody somewhere will say there was prior warning."
Too Broad?
However, many legal experts predict the order won't stand up in court.
"The question is whether this specific order is unconstitutional because it's too broad, and the answer pretty clearly is yes," Eugene Volokh, professor of law and First Amendment expert at the University of California, Los Angeles, told TechNewsWorld.
Whereas restraining orders generally bar someone from having contact with a particular person, this one "is tantamount to house arrest," Volokh said. "There is no way anyone can organize their life to make sure they stay 10 yards away from all minors at all times, and they certainly can't even go to court to challenge it."
The temporary restraining order was also given without McClellan's even being notified that there was a hearing, Volokh added.
Protected Speech
Indeed, on a higher level, given that McClellan has never been caught engaging in pedophile activities, his writings about it online may even be constitutionally protected by the First Amendment, Sean Kane, an attorney with Drakeford & Kane, told TechNewsWorld.
"While personally I find what he's doing morally reprehensible, if he has not been arrested for engaging in any of these activities, then seemingly what he's writing about should be protected," Kane said.
There are limits on what people can say under the First Amendment, Kane explained, but exceptions need to be specific, and there needs to be demonstrable harm — shouting "fire!" in a movie theater, for example. "Here, on the other hand, it doesn't seem to be at the level where his speech should be infringed upon," Kane said.
Crime-Facilitating Speech?
Whether McClellan's online writings have facilitated the crimes of other pedophiles could be another avenue to pursue, however, Kane said.
Yet even there, the information McClellan provided has not been detailed or specific enough to really make it easier for pedophiles to commit crimes, Volokh asserts: "All he's advising is visiting places like parks and bowling alleys — obvious things," Volokh explained. "It's not like details on building chemical weapons."
McClellan has admitted to photographing real children and posting the photos online, but photography in public places is generally allowed to anyone. The most likely way that type of activity could be stopped would be by focusing on the fact that he posted those photos in the context of discussions about sex, Volokh noted. It would also require a new exception to the First Amendment, he said.
Monitor and Learn
Whatever decisions made about McClellan's First Amendment rights, his obvious affinity for public attention will ultimately help in the effort to fight pedophilia, Parry Aftab, cyber-crime lawyer and executive director of WiredSafety.org, told TechNewsWorld.
"The Internet allows all kinds of communities to form, and that includes communities of sex traffickers and pedophiles," Aftab explained. "We need to recognize that while there will be a lot of things we can't shut down, it doesn't mean we can't monitor and learn from them."
For example, McClellan's site advocated encouraging children to wear "Good Humor" logos on their backpacks so that pedophiles could recognize them as likely targets who had been contacted before, Aftab said. Unilever, which owns the Good Humor brand, has already sent McClellan a letter, she said, "but I really hope they'll do more than that. We need the big companies to help, and if I can get him through copyright protection law enforcement, I'll take anything I can get."
'15 Megabytes of Fame'
In the long run, the real pedophiles will never seek the public eye, Aftab concluded, but "loose cannons" like McClellan can help law enforcement find them.
"McClellan has got his 15 megabytes of fame, and he'll never have peace again," she said. Meanwhile, "he'll make it a lot easier to find the really bad guys — the ones who really are doing harm."