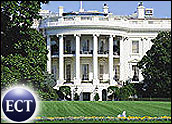 The battle over the Bush administration's warrantless wiretapping efforts escalated Monday as the chairman of the Senate Judiciary Committee threatened to hold White House officials in contempt for flouting an already-extended deadline to respond to a June subpoena.
The subpoena by the Senate Judiciary Committee requested documents providing the legal justifications for the warrantless wiretapping program, which was confirmed by President Bush in December 2005. The deadline was already extended once, from July 18 to Aug. 20.
On Monday Vice President Dick Cheney's office acknowledged it has documents that "may be responsive" to the investigation, including copies of "Top Secret/Codeword Presidential Authorizations" and memos from the Department of Justice. Nevertheless, the White House did not turn over the documents, responding instead only by asking for more time.
"We continue our efforts to identify further documents that may be responsive to the subpoena and renew the request made in our letter of August 10 for an extension of time," Shannen Coffin, counsel to the vice president, wrote in a letter to Sen. Patrick Leahy (D-Vt.), chairman of the Senate Judiciary Committee.
Time's Up
Leahy, however, appeared unwilling to grant any more extensions.
"I have worked in good faith with this Administration, first seeking the information voluntarily from officials and then accommodating their requests for more time," Leahy said. "Unfortunately, that good faith has been met with continued stonewalling tactics of dodge and delay.
"This is almost two months after service of the subpoenas and three weeks past the time the White House counsel estimated would be needed," Leahy added.
Leahy reportedly said he would bring the issue up before the committee when it returns from its August recess.
Executive Privilege
In addition to asking for more time, lawyers from both Cheney's office and the White House suggested that documents might not be turned over without a fight, and that the Judiciary Committee's investigation could provoke a response from Bush claiming executive privilege.
"The Office of the Vice President reserves all bases for challenge to the validity in whole or in part of the subpoena," Coffin wrote.
"A core set of highly sensitive national security and related documents we have so far identified are potentially subject to claims of executive privilege," wrote Fred F. Fielding, counsel to the president, in a separate letter to Leahy. "This letter is to reiterate that although no documents will be produced today for the reasons set forth previously and above, we do hope you and your Committee members will consider our request to expeditiously seek a means of accommodation that will negate the need for an assertion of executive privilege."
No More Empty Threats
Just before Congress adjourned for its August recess, the White House rushed into law the Protect America Act, which updates the Foreign Intelligence Surveillance Act (FISA) by permitting warrantless surveillance of any targets located abroad, even if they are communicating with someone in the United States. The law expires in six months, but the White House appears keen to make its provisions permanent.
"It is welcome news to see Leahy come out and publicly challenge the administration on this issue, but it is also imperative that these do not turn into empty threats," Derek Slater, activism coordinator for the Electronic Frontier Foundation, told TechNewsWorld. "Enough is enough with the tough talk — the committee needs to make good on its threats and pry the truth out of the administration with all available means."
Even more important than uncovering the truth, though, is remembering that the ultimate goal is stopping illegal spying, Slater added. "The truth cannot legitimize these violations of the laws protecting millions of innocent Americans," he said. "Congress's first priority should be enforcing those laws."