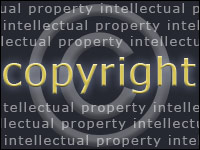 There are a lot of photographs out there. Photo sharing and album network Flickr alone reckons it hit the 6 billion image upload mark last year. If you consider Picasa, Facebook, and the current darling known as Instagram, we're talking gazillions of images floating around — all freely downloadable.
Couple this relatively new phenomenon with an entire generation's apparent total lack of comprehension of copyright law, and it may be time to start protecting your work.
If you're spending time honing your craft, you're making an investment. Protect this investment by restricting the use of your images. You can do this with a simple watermark. A watermark lets users sample the "comp" image in their mock-up. You can then release a non-watermarked version when, or more likely if, they hand over some money.
Protect Yourself
Even if you're not selling images, one day you might. Your images are an asset. Adding a watermark can be accomplished quickly, while you are making basic image edits like crops and so on. You can find detailed instructions and screen shots at All Things Photography.
If you have images in cyberspace that haven't been watermarked, there are tools to find stolen work too.
Add a Watermark
Open the image in any photo-editing program on your PC. Adobe Photoshop and Photoshop Elements are two common programs for this.
Fit the image to the screen. In Photoshop versions, choose "View" and "Fit on Screen."
Click on the Text tool button. It's usually labeled with a "T" icon.
Choose the font from the fonts available. Keep things simple, because anything elaborate will detract from your image. The idea is to sell the image, not the watermark. I have used black Arial set to Bold at 36 points and I type my name. You can include an email address too.
Open the "Layers" window and select the layer you're working on. Look for the "Opacity" slider and reduce the opacity to 10 percent. This will have the effect of making the watermark fade to gray.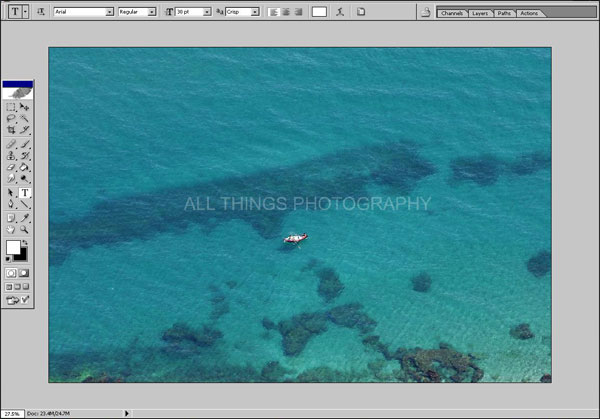 Save the File in Low Resolution
Save the file as a 72 dpi comp version by using the "File" and "Save as" option rather than "Save."
The idea is to keep your full resolution original archived, and to upload the layer-flattened, watermarked version to be freely stolen in the hope it creates a sale. A 72 dpi resolution is unusable in print, but looks fine on screen.
Set up an "Action" to automate watermark creation if you are using Photoshop itself, rather than the stripped down Elements version. Actions are in the Windows area in the full version.
Reverse Search
Perform a reverse search for images you own. If you suspect a previously uploaded, non-watermarked image has value, you can perform an image search to see if it's being used around the Web. This is also a great way to see where your sold images are being used — legitimately and not.
Browse to the Tineye website and upload the image in question. Tineye's algorithms will provide possible matches. Tineye is free for non-commercial purposes, and you can donate too.
Stolen Camera Finder
Stolencamerfinder is a Web-based search engine that looks for the Exchangeable Image File Format (EXIF) metadata embedded in images.
EXIF metadata is provided by some cameras, and includes the serial number of the camera among other things. I was unable to get results with Stolencamerafinder due to camera type and editing that had wiped the metadata — but theoretically, under certain circumstances, you should be able to find images across the Web that contain the EXIF data from your camera and, thus, stolen images.
Want to Ask a Tech Question?
Is there a piece of tech you'd like to know how to operate properly? Is there a gadget that's got you confounded? Please send your tech questions to me, and I'll try to answer as many as possible in this column.
And use the Talkback feature below to add your comments!