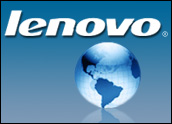 As gadget makers gear up to show their wares at the 2009 Consumer Electronics Shows (CES) in Las Vegas, Chinese hardware maker Lenovo debuted a host of new laptop PCs, the most striking of which offers users a dual-screen configuration.
The ThinkPad W700ds features a 17-inch primary screen with a 10.6-inch slide-out secondary screen. It is the first mobile workstation with two built-in displays, according to Lenovo, and will enable users accustomed to working with two monitors the ability to operate in a mobile environment. Prices start at $3,663.
Along with the dual screen ThinkPad, Lenovo also unveiled three new Y Series laptops ranging in size from a 16-inch model to a 14-inch notebook, priced between US$829 and $1,199. Lenovo also gave its S10 netbook a makeover, adding new multimedia and networking features. The newly outfitted S10 retails for $350.
Rounding out the new PCs is the IdeaCentre A600 desktop, which includes an Intel Core 2 Duo processor, optional ATI graphics card and a hard drive with up to 1 terabyte of storage. Available in April, the desktops start at $1,000.
Portable? More Like Transportable
While it might sound cool to have a laptop sporting two displays, the ThinkPad w700ds is very much a niche product, Stephen Kleynhans, an analyst at Garner, told TechNewsWorld.
"It is not for the typical notebook user but rather is targeted at one with a very specific requirement," he noted.
Lenovo's claims of mobility notwithstanding, Kleynhans said that the system is "not really for 'mobile' use.
"You aren't going to open this thing up on an airplane tray table or even at the local Starbucks. It is for transportable use. It is geared at a content creator or engineer who needs to work somewhere other than a primary office but needs access to a high-performance workstation," he pointed out.
A Workstation for the Road
Having multiple screens is becoming increasingly necessary for many workers who need to deal with either complex work environments or multiple applications at a time, according to Kleynhans.
"This provides that capability for workers who need mobility, without having to lug along — or find — another monitor when working off-site," he continued.
The dual-screen laptop's hefty price tag is matched by its hefty weight — the PC tilts the scales at 11 pounds.
"The biggest drawback of the machine is size and weight. This is a big machine," Kleynhans said.
Double the Real Estate
The additional screen real estate made available by multiple monitors helps maximize user productivity compared to a single display solution, Lenovo said, citing a report from Microsoft Research. At 10.6 inches, the ThinkPad W700ds' secondary screen is roughly 40 percent the size of the 17-inch principal screen and slips out from the side of the larger screen. It can be adjusted to accommodate a user's view by up to 30 degrees.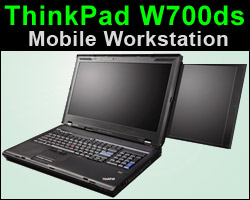 The second screen complements the primary optional 400-nit WUXGA (Widescreen Ultra eXtended Graphics Array) display that offers up to twice the brightness of previous ThinkPad mobile workstations. The primary screen's color gamut enables more than 50 percent greater color intensity.
The ThinkPad W700ds is not just about the displays, however. The mobile workstation also includes optional features such as Intel's mobile quad core and extreme processors, dual hard drives with RAID (redundant array of independent drives) configurations and Nvidia's Quadro FX mobile graphics hardware. It includes up to 8 GB of high-speed DDR3 memory as well as a choice of solid state drive storage or traditional hard disk drives with up to 960 GB of storage.
On the multimedia end, the system offers an optional DVD disk drive and high-speed UDMA (Ultra Direct Memory Access) compact flash reader, support for Dual Link DVI, Display Port and VGA, a 7-in-1 multicard reader and five USB ports. Connectivity options include WiFi with select models offering WiMax support. Security-wise, the dual screen laptop includes an optional fingerprint reader and hard drives with full-disk encryption.