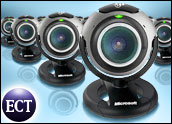 Webcams have been around for awhile now, but it hasn't been until recently that they've started to become a hit with the instant messaging crowd. The classic videophone may have been a bust, but the marriage of Webcam and IM has started to capture the affection of Net gabbers.
Apple, as usual, was quick to pick up this vibe and began incorporating video cameras into their computers.
Apple was by no means the first to wed computer and camera, however. Sony had been doing that in some selected models much earlier.
What Apple had that Sony didn't, though, was a vision. The camera in an Apple computer wasn't just another neat feature; it was an integral part of the Mac ecosystem anchored by the .Mac online service, a subscription-based community for Mac owners.
Microsoft, too, is trying to carve out a community for its users with its Windows Live offering. As evidenced by its recent introduction of two new Webcams, it sees video conferencing as an important part of that community.
Clever Design
If you're looking for a modestly priced Webcam, there's the LifeCam VX-3000 (US$49.95). It supports standard USB 1.1 connections, will capture low-res still photos at 1.3 megapixels (interpolated) and video at 640-by-480 pixels, and has a built-in unidirectional noise-canceling microphone.
"Interpolated" means the image is captured at a smaller size and an algorithm is used to obtain the larger size. The result is an estimate of what the larger photo should look like, not what it actually is.
For searchers of a racier Webcam, there's the Lifecam VX-6000 ($99.95).
The 6000 supports the faster USB 2.0 standard, snaps images at five megapixels (interpolated) and video at 1.3 megapixels. It also has a built-in noise-canceling mic but has the added feature of a 3x zoom.
Unlike some Webcams that keep you in a tight frame, the 6000 has a wide-angle lens that lets you show more of your environment in a shot or get more people with less crowding into a video conference.
The camera's base is cleverly designed. It allows the unit to sit on a desk or splits apart to form a fork that enables the camera to sit on a flat panel monitor.
Easy Access
Before you can start using the camera, you need to install its software.
In addition to camera-specific programs, the set-up includes Windows Live applications Live Call and Messenger. Live Call is for making Internet phone calls. Messenger is Microsoft's instant messaging program.
From the main LifeCam window, you can snap photos, record sound and make videos. Photos, audio and video are stored in a folder that can be quickly accessed by clicking an icon at the bottom of the window.
Also from the window, you can control the settings for images in the camera. For example, you can change the brightness, contrast, gamma, hue, saturation and sharpness. And you can turn on exposure compensation for backlighting or low light and make the image black and white.
Images can be instantly e-mailed or posted to Windows Live Spaces, Microsoft's blogging space, at the press of a button from this window.
Dashboard Controls
You also have access to the LifeCam Dashboard from the window.
With the dashboard, you can add goofy animations to images in the camera — spiders moving up and down, lady bugs crawling across the screen and such.
It also allows you to manipulate the camera's zoom, as well as pan (move side to side) and tilt (move up and down) it, and turn the unit's face tracking feature off and on.
I found the zoom controls worked fine, but the pan and tilt feature was slow and unresponsive.
The LifeCam VX-6000 is a very good Webcam with an array of attractive features, made even more attractive if you want to join Microsoft's Live Windows party. If you're a party pooper, though, you'll find some of those features irritating.
---

John Mello
is a freelance business and technology writer who can be reached at
[email protected]

.
---