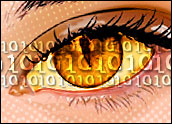 Two humanoid robots on Wednesday made their debut as part of a new exhibit at Japan's National Museum of Emerging Science and Innovation, or Miraikan.
The newly unveiled Kodomoroid — a child android — and Otonaroid, an adult female android, are designed to fill human roles as the world's first android announcer and as the Miraikan's android science communicator, respectively.
Along with Telenoid — a minimalistic humanlike robot introduced in 2010 by Osaka University and Advanced Telecommunications Research Institute International — the two are part of a new exhibition at the museum entitled, "Android: What is Human?" It is curated by Hiroshi Ishiguro, director of the Intelligent Robotics Laboratory at Osaka University.
A Variety of Voices and Languages
Androids are robots that closely resemble humans in appearance and movement, thanks in part to soft skin made from silicon and smooth motion made possible by artificial muscle.
As these resemblances become ever closer, the distinctions between robots and humans could become less and less clear, Miraikan noted.
Kodomoroid is a tele-operated android robot resembling a human child that can recite news reports gathered from around the world 24 hours a day in a variety of voices and languages.
Otonaroid is a teleoperated android robot resembling an adult female that has been "hired" by Miraikan as a robot science communicator. At the exhibition, visitors can have face-to-face conversations with Otonaroid and also operate it themselves.
Going beyond the most basic communication, the robots reportedly are able to use humor and display confusion as well. During a press preview, Kodomoroid reportedly told reporters her "dream" was to have her own TV show.
Also available at the exhibit is Telenoid, a tele-operated baby-like android robot with a minimal design, created in an attempt to embody the minimum physical requirements for human-like communication. The design of Telenoid omits specific human physical features in favor of a neutral humanoid appearance, so as to allow those communicating with it to imbue it with characteristics of their choosing.
The new Miraikan exhibit opened Wednesday and is expected to run for at least three years.
'Creepy in Spades'
Kodomoroid and Otonaroid are not the only examples of increasingly lifelike robots out there today. Pepper — an android recently unveiled by Softbank that is designed to read human emotions — is slated to become available in Japan in February for a base price of 198,000 yen (US$1,947).
Either way, Kodomoroid and Otonaroid are "a big step towards autonomous human androids," Rob Enderle, principal analyst with Enderle Group, told TechNewsWorld. "You not only need to get the computer core right, but the appearance and movements right — otherwise, you end up with something really creepy, and these showcase creepy in spades."
Still, "you have to start someplace, and these efforts represent the state of the art in terms of robotic humanlike animation — and also showcase that we have a long way to go before we get this right," Enderle added.
"Initially, the most successful robots remain those that don't try to look human and focus on doing things machines do better than we do, but these efforts provide a stepping stone to much more humanlike future efforts that are a decade or more out," he predicted.
'This May Take 50 Years'
Indeed, "advancements continue to be made in the area of robotics, but robotics is very complicated," Jim McGregor, founder and principal analyst with Tirias Research, told TechNewsWorld.
"You have to think of this as a long-term evolution in various technologies that will eventually impact just about every aspect of our lives," McGregor added, "but this may take 50 years, not the five or 10 everyone predicts."