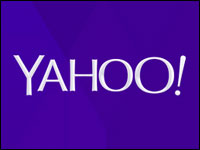 Certain advertisements on Yahoo's European website may have helped infect thousands of computers with malware, according to Yahoo.
A Dutch computer security firm, Fox-IT, outed Yahoo last Friday, penning a blog post claiming that attackers had used ads.yahoo.com to insert malicious ads.
Fox-IT was apparently on to something, because on Sunday, Yahoo admitted to hosting ads that didn't "meet our editorial guidelines" — a nice way of saying the ads spread malware. Mac computers and mobile devices were reportedly insulated from the malware.
Users in Romania, Britain and France were the most affected.
[Source: Reuters]
Bitcoin Spikes on Zynga Announcement
The roller-coaster value of Bitcoins swung back up on news that social gaming firm Zynga will include the virtual currency in its payment options.
Bitcoins' value plummeted in mid-December when Chinese authorities told third-party payment providers to quit clearing Bitcoins.
The value of Bitcoins peaked at US$1,250 in November but fell below $450 after China's declaration. Now, they're back over $1,000 again.
In other Bitcoin news, Hong Kong will allow what is believed to be the world's second Bitcoin ATM; the first such ATM was set up in Vancouver, British Columbia, late last year. Robocoin, the company that launched the Vancouver ATM, is also spearheading the push into Hong Kong.
Taiwan — which, like Hong Kong, shares a quirky relationship with Beijing — announced that it will not follow suit: Bitcoin ATMs will remain prohibited.
[Sources:BBC;South China Morning Post via The Register]
Amazon Founder Airlifted from Cruise
Jeff Bezos, the founder of Amazon who last year purchased The Washington Post, was airlifted from a cruise ship after falling victim to kidney stones in the Galapagos Islands.
The Ecuadorian navy orchestrated the evacuation. A helicopter rendezvoused with the ship and then flew Bezos 20 miles to his private jet, which took him to the U.S. for what the navy described as "emergency surgery."
In an email sent from Amazon to Reuters, Bezos seemed good-humored about the ordeal: "Galapagos: 5 stars. Kidney stones: 0 stars," Bezos said.
Forbes estimates that Bezos has a fortune of $25 billion.
[Source:The Guardian]
In China, Rare Earth Producer Acquires Mining Firms
The Inner Mongolia Baotou Steel Rare Earth Group, China's biggest producer of rare earths, has acquired no fewer than nine regional mining companies as part of Beijing's push to consolidate its world-leading rare earth sector. (The Party's eagerness to consolidate could help explain why Baotou Rare Earth didn't have to pay to acquire these nine 51-percent stakes.)
Rare earths, a term that describes 17 elements, are used as building blocks for applications ranging from telecommunications to defense to renewable energy. More than 90 percent of the world's rare earth metals are produced in China.
[Source:The New York Times]
China-Busting Security Firm Acquired for $1 Billion
In a deal worth more than $1 billion, security software provider FireEye has acquired Mandiant, the security firm that blew the lid off of massive Chinese espionage being conducted against the United States.
The deal, which involves both cash and stocks, closed a week ago but wasn't announced until after New Year's Day.
Mandiant's calling card is sending emergency teams to thwart attackers who have slipped malicious software into corporate computer systems. However, the outfit really put itself on the map — and drew the ire of Beijing — with its early-2013 report about Unit 61398, a division of the People's Liberation Army that Mandiant claimed was conducting gratuitous (and years-long) espionage against the U.S.
"After the [Edward] Snowden event, in the current political climate, no one can say to the government, 'Please, come on in and monitor our networks,' said Mandiant founder Kevin Mandia, who will assume the role of chief operating officer of the joint company.
[Source:The New York Times]