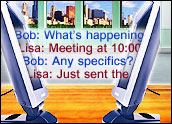 To mark its second birthday Monday, Meebo unveiled a surprise for its users — applications for the Meebo platform. With the announcement, the instant messaging site joins social networks such as Facebook and MySpace that have opened up their platform to third-party developers. The first round of applications are designed to pep up Meebo's communications capabilities.
"We're super excited to debut applications inside Meebo. Just click on that shiny new rocket ship icon in any IM window and then select which app you want to launch with your buddy," Meebo said.
The first application showcased was one for voice and video chat.
In addition to video and audio calls from TokBox, Meebo has introduced voice chat developed by Pudding Media, group voice call created by TalkShoe, and a live TV show creation tool from UStream.
Gotta Go Big
The new communications tools are the first applications in what Meebo said could be many more in the future. Other coming apps include games for single and multiple players, shopping utilities and tools for locating businesses such as restaurants.
A download of Meebo's application programming interface is available on the company's Web site. Creative types can build their applications using JavaScript or Flash, but while under development the potential apps will "live in an IFrame contained within a Meebo room," according to the company. Meebo reserves the right to approve the fully tested new applications.
Rising Bar
Meebo's decision to open up its platform to third-party developers is part of a growing trend among social networks. Facebook announced it was opening its platform to third-party developers and rolled out more than 85 applications for site members in May. Since then, the site has launched over 5,000 tools, with millions of the site's users adding them to their profiles.
The unexpected move caught the social networking and computing worlds by surprise. It immediately boosted the social network toward the top of the technology heap in its industry.
In an effort to keep up with Facebook, other social networking sites have followed suit. MySpace, the leader in social networking with some 188 million users, announced Oct. 17 that it would add third-party applications to its list of services. Just last week, Friendster followed suit with a developer program it said would begin in November.
Internet heavyweight Google is reportedly expected to debut a common set of standards for its Orkut social network on Thursday. The plan is to smooth the way for software developers to work their third-party magic not only on Orkut, but also other social networks such as LinkedIn, Hi5, Friendster, Plaxo and Ning.
Glowing Face
"The glow of Facebook has begun to inspire a new wave of social application platforms, [and] in Meebo's case, leveraging the real-time nature of instant communications," said Andrew Frank, a Gartner analyst.
Internet technology, he told TechNewsWorld, has erased most of the technical barriers to launching a platform, but the problems remain in building on a massive scale and monetizing it effectively. That key barrier means Web companies need more than just substantial backing to start their own platform.
"Facebook, MySpace and — to a lesser extent — Meebo are the exceptions rather than the rule among thousands of aspiring Web 2.0 sites and services," Frank added.
Star Second-Stringer
While not a major player, Meebo is a significant secondary player, said Paul Gillen, author of The New Influencers: A Marketer's Guide to the New Social Media. Meebo's announcement indicates that Web 2.0 companies must now look at platforms as an industry must, he said.
"It's the price of staying in the game these days. Since Facebook first opened its platform, all these other communities are rushing in to do the same thing. And it makes sense. They should be doing this, but it looks very 'me, too,'" he told TechNewsWorld.
Meebo is not doing anything that Facebook and MySpace have not also done, he added, meaning Meebo has done little to differentiate itself in the field.
"What they need is to get application developers that MySpace and Facebook can't get," he explained. "And they need them to deliver something that is very specific to their audience. So probably Meebo's best bet would be to out-niche the other guys.
"The only way you can compete against that is to be very good at niches. So maybe you're very good at multi-player gaming, for example, or very good at supporting mobile users. That is the only way you can beat Facebook at this game."