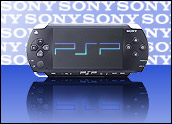 Sony will launch a new version of its PlayStation Portable (PSP) this fall in Japan, the company announced Tuesday. The PSP-3000, which Sony debuted in August, features a new high contrast LCD screen and built-in microphone.
The revamped handheld gaming device also offers twice the memory of previous models, 4 GB, and boasts improved graphics. Sony will release new accessories as well, including a battery pack and cradle.
Available in three basic colors, "piano black," "pearl white," and "mystic silver," the device will hit Japanese store shelves on October 16 at a retail price of 19,800 yen (US$182).
A unit bundled with "Mobile Suit Gundam Gundam vs. Gundam" will launch Nov. 20, priced at 24,840 yen ($228). A PSP-3000 bundled with "Patapon 2 Donchaka," set to hit stores on Nov. 27, will sell for 23, 800 yen ($218). Finally, on Dec. 18, Sony will release a "Dissida Final Fantasy" bundle selling for 25,890 yen ($237).
"There definitely are some improvements. Improving the display and continuing to improve the graphics on it can't hurt — especially in Japan, which is such a high-def society so far in front of the U.S," said Michael Goodman, an independent gaming and digital media analyst.
"It comes with a larger memory stick; the old one was 2 gigs. So, they are clearly evolving the PSP as a handheld media platform, and it's a memory stick — but that storage is absolutely critical," Goodman told TechNewsWorld.
Not Just for Gaming Anymore
Sony has retained the basic design and functionality in the PSP-3000 upgrade. However, the company is touting additions such as its new built-in microphone, which lets gamers make phone calls using Skype. It can also be used in certain games and for other communication purposes.
However, this new voice functionality is not the PSP-3000's most notable feature, said Stephanie Ethier, an In-Stat analyst.
"I think the strongest … selling point of the Sony PSP Slim — and the new PSP 3000 — is not the voice capability, but the fact that transferring content from the PS3 to the PSP is an easier process, making the PSP a truly compelling portable multimedia device," she told TechNewsWorld.
"My guess is the voice feature is more of a spin to market the Sony PSP as a viable competitor to the iPhone," Ethier continued. "In the end, the PSP is still primarily a gaming device, but the increased amount of compelling video content — and the ease with which PS3 owners can transfer that content — is the true selling point of the PSP."
The game's new 4.3-inch wide LCD screen is the best feature, according to Michael Gartenberg, vice president of mobile strategy at Jupitermedia.
"The screen is the best thing. Sony's attempt to cast the PSP-3000 as a phone is a little bit overly optimistic. It's a stretch as a communication tool," he told TechNewsWorld.
What puzzles Gartenberg is why Sony thinks a gamer would use the device to make a phone call.
"It's about games, first and foremost. This isn't a secondary feature — its like your phone of last resort. When you're not near a computer, you're not near a telephone, you're not near a cell phone, and you have to reach someone, then use your PSP," he continued.
PSP-3000 Takes On Nintendo DS
When it is released, the PSP-3000 will take on the current market leader, the Nintendo DS. In the past 12 months, the Nintendo DS has sold more than 18 million units, while the PSP trailed significantly with over 6 million devices sold, according to VG Chartz, a gaming sales tracker.
One thing working in the PSP-3000's favor, though, according to Goodman, is that the Nintendo DS is in need of a refresh itself.
"The PSP has done better in Japan in recent months. Part of it is because the DS is getting a little long in the tooth and the PSP is able to make up ground. They have something fresher with the PSP 3000," he explained.
Working against the PSP-3000, however, are the games, said Gartenberg.
"It's a very different experience," he remarked. "The PSP is focused on bringing this mini-console version down to the handheld, where the DS is focused on providing a very different experience. Sony seems to be trying to emphasize these other features, but they have to remember [that] at the end of the day, it's not about those things. It's about the game."