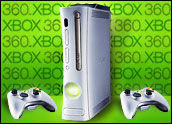 Microsoft is controlling the early buzz at the massive E3 video game convention with its Project Natal technology, which allows gamers to interact with their Xbox 360s without the need for handheld controllers.
Along with the publicity, though, the company is creating a lot of questions regarding its ability to deliver on the innovation and promise demonstrated on a Los Angeles Convention Center stage Monday.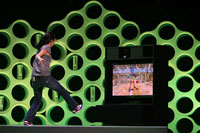 [Click Image to Enlarge]
It made sense for Microsoft to invite Steven Spielberg to help introduce Natal to the throng of media and industry insiders in the audience. Natal uses a full-body motion capture camera along with voice and facial recognition technology to let users do their best impressions of Tom Cruise's character from Spielberg's 2002 science fiction opus "Minority Report." Like Cruise, Natal players will use their movements and their voices to interact with games and, as Spielberg hinted, possibly other forms of entertainment.
Natal demonstration videos now on the Web feature a family member pretending to hold a race car's steering wheel from her living room couch while zooming along a Formula One course in a game; another gets martial arts lessons from an in-game teacher who follows a teenage boy's movements as he paces the floor; that boy's little brother later controls a Godzilla-like monster on the screen. The parents are seen using hand gestures to pick their movie choices from an Xbox Live catalog.
The Big Questions
All of this is the stuff that a gamer and a first adopter's dreams are made of, naturally. So when can you buy it and how much will it cost? Will the games featured in the demonstration be available, and so on?
Microsoft had no answers to any of these questions, but there are plenty of unofficial efforts to fill in the blanks. Microsoft executives did say that the software development kit for Natal is now available for third-party game developers.
Given the long lead time required to bring games to market, it's unlikely that Redmond will be giving a Christmas present to the gaming industry this year, said Directions on Microsoft vice president Matt Rosoff. A pre-holiday release "could be interesting and could spur game sales and keep console sales strong," Rosoff told TechNewsWorld, "but if it waits another year, we'll have to see if the buzz dies down."
If Natal were to come out before the end of 2009, the games available would all have to be from Microsoft studios, Rosoff speculated, as third-party developers would need more time to build games based on the new technology — and Microsoft would want a lot of consumer choices available at launch.
Demo Is One Thing, but What About the Living Room?
Natal looked great in the E3 demonstration and on the video presentations, Rosoff acknowledged, "but of course, we're going to have to see how it works in the real-world environment. They are camera-based sensors, so light and the amount of light in your room might be an issue. It's just one of those products that until you start to see some hands-on reviews, it's going to be hard to know whether it works as advertised."
Natal is a good answer to the Wii-mote, which has helped Nintendo vault back to the top of the video game industry, said Rosoff. However, Xbox has come a long way from the 2001 introduction of its original console, and now its 360 version has reached a solid No. 2 position in terms of sales, ahead of former leader Sony and its PlayStation 3.
"I think all three companies want to keep this generation of consoles around for a while, so there should be no new consoles or arms race. The competition will be in services and peripherals," Rosoff predicted.