Microsoft on Tuesday pulled back the veil on the successor to Windows 8, and instead of debuting an expected Windows 9 version of its personal computer OS, the company introduced the world to Windows 10. A technical preview was made available on Wednesday.
Microsoft also kicked off its largest-ever open collaborative development effort with the new Windows Insider Program, which is meant to help provide feedback to the company. Program participants will receive the technical preview of Windows 10, as well as the latest builds through the final development cycle.
"Windows 10 carries Windows forward into a new way of doing things," Microsoft said in a statement provided to TechNewsWorld by spokesperson Eri Mizobe. "It is not an incremental change, but a new Windows that will empower the next billion users."
Back to the Start
Windows 10 is a combination of the best elements of the popular Windows 7 OS, along with some of the touchscreen-friendly features and functionality of Windows 8.
Windows 8 in general was poorly received, however, so with Windows 10, Microsoft made some U-turns.
Clearly seeing the error of its ways, it returned the Start button, which was MIA in Windows 8. The Start menu provides one-click access to the functions and files that are most used. Users can personalize the space with Modern UI features that include favorite apps, programs, people and websites.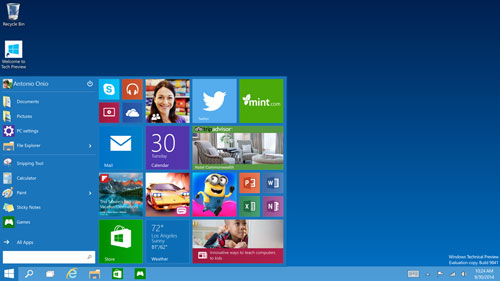 In addition to being able to resize apps and place them on the title bar, users can switch between desktops for different purposes and projects — including for work and personal use.
"With the preview of Windows 10, Microsoft looks like it's finally taken control of the reins again," said Josh Crandall, principal analyst at NetPop Research.
"Offering multiple desktops to separate personal and professional uses is smart, as is the additional focus on snapping different applications to the screen at once," he told TechNewsWorld.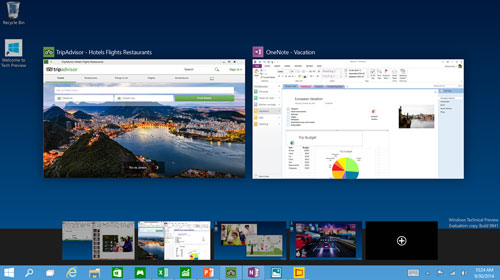 "Live tiles tap into the continuous flow of information that's around each of us," Crandall observed.
"It's exciting times again as we watch the tug-of-war between the browser and the OS. Whether your use is for pure productivity or procrastination, via mouse or touch, Windows 10 looks fresh and powerful," he said. "Now, the question is whether users will have the stamina to keep up with the content and applications that are vying for attention at every moment."
Another Do-Over
If the move back to a more familiar interface feels like dj vu, it could be because Microsoft has done this sort of rollback before — notably to address the lack of acceptance of some of the features in Windows Vista. After just two years on the market, the unpopular successor to the popular Windows XP was replaced by Windows 7.
Although Microsoft has experience undoing its mistakes, it typically doesn't simply revert to the original.
"Microsoft is combining the traditional feel and comfort that users had with Windows but is still bringing in the newer technology that Windows 8 offers," said Craig Stice, senior principal analyst for compute electronics at IHS.
"They're addressing the issues of Windows 8, which was difficult to use because of the learning curve," he told TechNewsWorld.
"Getting back the familiarity of Windows 7 is the right move, as they are catering to the desktop users that still rely on the mouse and keyboard while ensuring that the touchscreen functionality is there for the future," he added. "It seems like from the early previews that they've gotten it right."
Microsoft is not the only IT vendor to undertake a do-over from time to time.
"This is common among IT products, where they deliver a cool, interesting, innovative product but it includes numerous mistakes that are only fixed in the next version," said Charles King, principal analyst at Pund-IT.
"It is a typical one step forward followed by one-step-backward strategy," he told TechNewsWorld.
To the Nines?
The fact that Microsoft skipped Windows 9 could suggest that if it ever were in development, it might not have been enough of a departure from Windows 8.
"By skipping a version number and calling the next version Windows 10, Microsoft is highlighting the significance of this release to the company," said Crandall.
"Let's face it, the rollout of Windows 8 was an enormous marketing faux pas, and the company is still reeling from it," he remarked.
"Rather than highlighting the touch-interface revolution of computing by offering Windows 8 exclusively to people who have bought into the technical requirements of owning a touch-enabled screen, the company made it available on the cheap to anybody with PC that had a mouse and keyboard," Crandall noted. "Ever since, Microsoft has been bailing water."
Managing Ambitions
Windows 10 not only could correct the glaring errors that Microsoft may have made with Windows 8, but also serve to help get PCs selling again.
"The move to a more traditional desktop look and feel will make it easier for business customers to upgrade," Pund-IT's King suggested. "Microsoft was smart and went back and listened to its customers."
Still, it's puzzling why Microsoft so often takes that step-forward, step-backward strategy to get a product right.
"You would think they'd learn the lessons," said Stice. "However, there are significant gaps in the time of these releases, and the technological improvements are exponential. Microsoft sees that they overstepped with Windows, but hitting it out of the park the first time would have been quite the accomplishment."