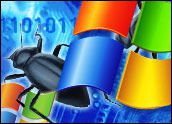 Consumers hoping to safeguard their holiday memories by storing pictures on their Windows Home Servers (WHS) may instead want to save those files on their PCs' hard drives. A post made on Microsoft's WHS blog warns users that WHS contains a heretofore undiscovered file corruption bug.
Although engineers are busily trying to solve the problem, Microsoft said, users are advised not to edit and then save WHS stored files using any of several Microsoft and third-party software applications.
"A few people in the Community Forums have reported data corruption when saving files from applications including Windows Vista Photo Gallery, Windows Live Photo Gallery, Microsoft Office OneNote 2007, Microsoft Office OneNote 2003, and SyncToy 2.0 Beta. Additionally, some applications, like Microsoft Money and Microsoft Outlook, do not support storing files on shared folders," the WHS Team wrote on the product's blog.
"The Windows Home Server team closely follows the threads on the Community Forums to get real-time feedback. Data integrity is of the utmost importance; Windows Home Server team tackles issues around file or data corruption with extreme seriousness and urgency. Our development team is working full time through the holidays to diagnose and address this issue," the post continued.
A Sharing Problem
Announced at the 2007 Consumer Electronics Show, the bundled WHS hardware and software package went on sale in November. It's aimed at consumers and small businesses, and it's available from manufacturers such as HP.
A Microsoft support article appears to point the finger for the issue at the WHS system's shared folders. The software maker advises WHS users to make sure they have a backup copy of any important program files before storing files on a machine running WHS.
"Until an update for Windows Home Server is available, we recommend that [WHS owners] not use the programs listed in this article to save or edit program-specific files that are stored on a Windows Home Server-based system," Microsoft suggested.
A Testing Issue
The file corruption bug is a very serious problem for both WHS owners and Microsoft.
"File corruption on a server simply shouldn't happen," said Rob Enderle, principal analyst at the Enderle Group. "They haven't determined why yet, and given the Windows Home Server is a spin on an existing enterprise class server platform, it probably has to do with a unique situation that exists in the home.
"This product was beta tested by me and others, and we didn't see this, but most of us were focused on media serving and backup, not on using it like you might use a server in a real small business," he continued.
For Microsoft, this is the third product the company has rolled out this year that contained significant flaws in its code, said Michael Cherry, lead analyst at Directions on Microsoft. Problems with the Xbox 360 will cost the company US$1 billion to correct, and a bevy of issues with its Windows Vista operating system has frustrated early adopters of the software.
These marks on its track record suggests that the software giant needs to overhaul its pre-release testing practices, especially "when you promote a device for storing photographs, but it doesn't do that very well," he said.
"On one hand, I doubt it's a huge issue, because I suspect they haven't sold very many of them. It's a brand new product and there are other ways to accomplish it. It will be limited by the fact that [the WHS] has only been out about a month. So to a certain extent that may limit any issue."
The problems, however, are nothing to ignore. Microsoft, Cherry said, has rolled out three products recently in which testers were unable to spot major problems prior to widespread release.
"When you look at Vista and some of the problems it is having, you might be able to conclude that quality really doesn't matter, and Microsoft just wants to get the product into the channel at a certain time in the sales cycle, and that basically any problems they are finding they will either downplay their importance or claim they only occur in really rare circumstances," Cherry told TechNewsWorld.
The fundamental claim that quality is their No. 1 priority and that customers tell Microsoft when quality is good enough cannot be the case, Cherry stated, because customers do not want their photographs destroyed.
Confidence Game
The Xbox, Vista and Home Server cases have already started to undermine confidence in Microsoft's products, Cherry continued.
"The undermining has already started. The evidence of that is that this just feeds the wait for the service pack, so that people are starting to say, 'We really shouldn't have bought this home server until there was home server Service Pack 1," Cherry said.
Cherry acknowledged that writing software is a tricky business and that there are bound to be some mistakes — particularly when it has to interact with third-party software. "But we're talking about things that are so fundamental to the product [that testers should have been able to catch the mistakes].
"It's even things like Vista's photo tools are corrupting, so their own main product doesn't work with this thing," he stated.
"Given most of the products listed are Microsoft's, I think it should have come up in the in-house testing, and it will be interesting to learn why it didn't," Enderle noted. "Often when a product hits the market, combinations of things folks never thought to test showcase problems that were undiscovered — probably goes to why the advice is to avoid first-generation products is so widely followed."
With its next several releases, Microsoft will have to demonstrate that it is testing its software thoroughly.
"They have to show that they really are testing across a wide enough [spectrum] of cases and scenarios and that they are adequately insuring that their products are ready to ship," Cherry suggested. "It might be a longer beta period. Sometimes you might be better off with a smaller beta with people who really use the product, instead of one with a million beta testers who never report a problem.
"But these are problems their own internal testing should have found, which says they are setting the bar wrong," he added. "Someone needs to resolve why these products are getting out into the public and then being found with major problems that should have been detected before the release. They show a bigger systemic problem with how Microsoft is testing its products."
If Microsoft does not correct its testing practices and repair its reputation, the initial consequence will be a significantly protracted adoption period for new products, he stated.
"It will make people reluctant to be early adopters of their products. No one wants to pay full retail to be the guinea pig," Cherry said. "[People will] just pick an alternative and eventually it will have an impact on [Microsoft]."