Microsoft CEO Steve Ballmer took the opportunity at the Mobile World Congress to announce three new ventures the company will take in the smartphone space. Microsoft will offer a new, upgraded Windows Mobile 6.5 operating system, a new Windows Mobile application store, and a Web-based service for accessing, transferring and backing up smartphone-based information.
"We're working with partners across the industry to deliver a new generation of Windows phones that break down the barriers between people, information and applications and provide great end-to-end experiences that span your entire life, at work and at home," Ballmer noted.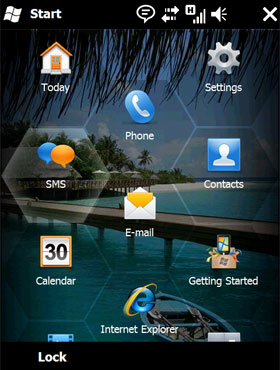 Microsoft hardware partners LG and HTC also announced new phones that will run Windows Mobile 6.5 — though Microsoft will de-emphasize the "6.5" version number and market the operating system to consumers simply as "Windows phones."
LG will release its LG-GM7300, which will be available first on Windows Mobile 6.1 but will later run Windows Mobile 6.5. LG also announced that the company will make Windows its primary operating system for its smartphones, generating a tenfold increase in the volume of Windows-based phones in 2009. LG plans to bring 26 new Windows phones to market in 2012.
HTC announced that its Touch Diamond 2 and Touch Pro 2 will be upgradeable to Windows Mobile 6.5. The Touch Diamond 2 features HTC's TouchFLO 3-D touchscreen interface on 3.2-inch high-resolution widescreen display. The HTC Touch Pro 2 introduces HTC's new Straight Talk technology for a new integrated e-mail, voice and speakerphone experience.
The new phones will be available in the second half of 2009.
Playing in the Shadows?
Microsoft has been playing in the smartphone game for ages, yet it's been overshadowed by the Apple iPhone, Research In Motion's BlackBerry lineup, Google's Android-based efforts, and even Palm to some extent, with that company's upcoming Palm Pre.
"Microsoft has been overshadowed due to their inattentiveness toward ease of use. They have done very little each previous release to improve Windows Mobile and now found themselves in a hole relative to these players," Ken Dulaney, a mobile and wireless analyst for Gartner, told TechNewsWorld.
"This is an improvement with some nice features, but it's still the same guts. There will not be a new look to the environment to compete against iPhone, etc., until year-end 2010, in my opinion," he added. Windows Mobile 6.5, he noted, will help keep Microsoft in the game as they build out their application store.
The New Store
Windows Mobile 6.5 features Windows Marketplace for Mobile, where users can search, browse and purchase mobile applications for a Windows phones. The new store is also accessible via a PC by using a Windows Live ID. Microsoft says 20,000 applications have already been built for Windows Mobile-based phones, and developers will be able to offer their applications in the new store after a security and compatibility check from Microsoft.
In addition to the store, Microsoft will offer a new service, My Phone, which is similar to Apple's MobileMe — but My Phone is free, whereas MobileMe requires an annual fee.
My Phone will let people access, manage and back up their personal information on their device to a password-protected Web-based service, Microsoft said. My Phone will also make it easier to upgrade phones, and it will include automatic syncing and backup, so user information can be restored if their shiny new smartphone takes a dive into a mud puddle.
Consumers will also be able to automatically upload photos and videos from their Windows phones directly to the My Phone service, Microsoft said, making it easier to get media content off of Windows phones. The My Phone service is currently available in a limited, invitation-only beta.
Microsoft also announced Microsoft Recite, a voice search technology for Windows phones version 6.0 or later, that lets users record, search, and retrieve spoken notes and reminders using just their voices. It's available as a free technology preview here.