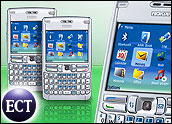 Microsoft is bringing its video technology to millions of smartphones in collaboration with Nokia, the largest cell phone manufacturer in the world.
Microsoft's Silverlight brower plug-in first will come to handsets built on Nokia's S60 platform, and soon thereafter will be available on Nokia's S40 phones, as well as on Internet tablet devices, the companies said Tuesday.
The S60 platform, developed for the Symbian operating system, is used in more than 150 million Nokia, LG and Samsung smartphones sold globally.
"Working with Nokia means we are easily able to reach a huge number of mobile users, including customers of all S60 licensees," noted S. Somasegar, senior vice president of Microsoft's developer division. "This is a significant step in gaining broad acceptance for Silverlight and ensuring it is platform-agnostic. This is critical, since we want to make sure developers and designers don't have to constantly recreate the wheel and build different versions of applications and services for multiple operating systems, browsers and platforms."
Big Step for Microsoft
Microsoft currently is developing a Silverlight version for its own Windows Mobile platform.
However, the Nokia gambit could be a major advantage for Redmond as it pushes to catch up with Adobe's Flash and Flash Lite, which have longstanding licensing agreements with most major phone manufacturers — including Nokia.
Flash's foothold is not insignificant, IDC Research analyst Chris Hazelton told TechNewsWorld.
"It's significant that they're supporting Silverlight, but it must be noted they've supported Flash and Flash Lite since 2005," Hazelton said. "So, they're essentially working with everyone to develop and reach out and support different standards."
Still, it's a huge step for Microsoft, said Jack Gold, founder and principal analyst for J. Gold Associates.
"From the Microsoft perspective, it's a big coup," he told TechNewsWorld. "Nokia has the largest share of smartphones in the marketplace and probably will continue to do that for some time. That gives them hundreds of millions of devices, potentially, for Silverlight users to be viewing on."
Nokia has more than half the global market for smartphones, according to research firm Canalys.
Coup in Competitive Field
"It's a huge plus for Microsoft, because Nokia has a very significant base of S40 and S60 devices, and that's an enormous platform for Silverlight," Van Baker, vice president of research at Gartner, told TechNewsWorld. "It certainly gives them a big installation base of devices they can evangelize to the developers."
For Nokia, it's another option for users, said Lee Williams, senior vice president in Nokia's devices software unit.
"Nokia's software strategy is based on cross-platform development environments, enabling the creation of rich applications across the Nokia device range," Williams said. "Nokia aims to support market-leading and content-rich Internet application environments, and to embrace and encourage open innovation."
Pressure on Apple
The move also puts some pressure on iPhone maker Apple, which, to this point, has chosen to apply its own technology to its smartphones.
"It certainly puts more pressure on Apple to either come up with Flash or Silverlight — or both — on its platform," Baker said. "That's one shortcoming of the Safari implementation on the platform, in that it doesn't support Flash now. This might get them to support something other than their native technology."
Apple might be biding its time, he suggested. "If they're going to do this, they might wait until the 3G version of the iPhone comes out later this year."