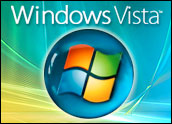 Windows Vista users who have been chomping at the bit to join the beta test of its first service pack (SP1) can now download the software thanks to an apparent reversal late last week by Microsoft.
After initially offering the latest beta version, known as "Vista SP1 RC Refresh," to its 15,000 beta testers last Wednesday, the company reportedly decided on Friday to open the testing up to the general public.
The change was made to add fresh blood to the beta testing and garner additional feedback from testers, according to Microsoft.
"In the interest of gaining additional tester feedback, on Thursday we made the Windows Vista SP1 RC Refresh available via Windows Update to interested beta testers on the public TechNet site. We are still on schedule to deliver SP1 RTM in Q1 CY08. The final release date is based on quality, so we will continue to track customer and partner feedback from the beta program before setting a final date," Microsoft said.
Need More Feedback, Captain
Nearly one year after the launch of Windows Vista, both home and enterprise type users around the world have awaited the release of the operating system's (OS) first service pack. For some, SP1 is a signal that they can begin the deployment process for a business or other organization. For others, it means a possible end to pesky performance problems and other issues that have come to light in Vista.
Although waiting for the first SP is a tried and true deployment test for most organizations whenever a new OS hits the market, it's also an outdated method, since between one-half and three-quarters of users have the bulk of the SP already installed on their system, said Al Gillen, an IDC analyst.
"A good portion of service packs are a bunch of nothing, because a lot of the stuff in a service pack has been delivered by Windows Update. For the average customer, about — I'm making this up — but it's probably well over 50 percent and under 75 percent, the content of the service pack is probably installed on their system anyway," he told TechNewsWorld.
However, there are plenty of customers that "use an outdated mentality" when it comes to service packs. They tend to hesitate to deploy a new Windows product until the SP has been released.
"I would argue that that is no longer a relative, or at least a valid, metric to measure the stability or maturity of Windows operating system by, but a lot of people still do that. They just simply say they won't even consider [deploying] it until the first service pack is out," Gillen explained.
Taking the service pack public is an important milestone in that context, Gillen added.
Useful Milestones?
In truth, though, interim achievements are just a blip in the beta cycle, with only two points holding real interest: the first release of beta code to the public and the final shipping of the released product, said Michael Cherry, lead analyst at Directions on Microsoft. Microsoft's decision to make the service beta available to the public is just what the company said, a bid to gain additional feedback.
"The problem for all companies doing beta testing is getting complete feedback. Every time you send out a beta, lots of customers will download it. Some will download it and never install it. Some will download and install it on a test machine, but other than running it for a short period of time, they will stop using it — probably the largest pool," he told TechNewsWorld.
"Some will download it, find a problem, and assume someone else will report it or the company must know about it already. Some will download it, find a problem, but write an unintelligible problem report. And in the end, only a small number of customers will provide useful and timely feedback. So to increase that number, you will often see companies continually expanding the numbers of people with access to the beta," Cherry explained.
Rather than indicating that there may be some sort of problem with the beta or that Microsoft is close to releasing the software, it shows that the feedback Microsoft has received "is not at a level needed to be comfortable that the product has been tested in most configurations," he added.
Things to Know Before Installing
For those interested in participating in the public beta for Vista SP1 RC Refresh, any earlier versions of the service pack must be uninstalled prior to launching the new beta, according to instructions on Microsoft's download site. This may result in multiple reboots, after which users should wait one hour before installing the current version of the beta.
Users with systems running Windows Vista RTM will generally require two or three permanent updates before installing the service pack, Microsoft said. The Windows Update service will detect the user's system configuration and sequentially "offer the prerequisite packages that are applicable" to that machine, followed by the service pack.
KB935509 is required only on systems running Windows Vista Enterprise and Windows Vista Ultimate editions with Bitlocker capabilities. KB938371 is an update that repairs several components, such as the TrustedInstaller, and increases the success rate for installing the service pack. It also enables the service pack to be successfully uninstalled. KB937287 is an update to Vista's "Servicing Stack," or the component installer technologies built in the OS. The update enables the built-installer to "properly and successfully install the service pack," Microsoft said.
The software maker suggests that beta testers avoid installing the pre-release software on primary or mission critical systems. Testers should also back up their data prior to installing the beta. Vista SP1 RC Refresh has an expiration date of June 30, 2008, and will no longer operate after that time. The company strongly encourages beta users to install the final version of the service pack when it is released.