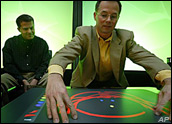 Microsoft has taken the touchscreen PC concept in a new direction, amping it up with a 30-inch screen, giving it five eyes and turning it horizontal to create a coffee table that can sense multiple touches at the same time.
Based on Windows Vista and called "Microsoft Surface," the new computer can also sense — through the use of five cameras mounted below the "surface" screen — everyday objects that have been tagged with a special sort of barcode label.
"With Surface, we are creating more intuitive ways for people to interact with technology," Microsoft CEO Steve Ballmer said. "We see this as a multibillion dollar category, and we envision a time when surface computing technologies will be pervasive, from tabletops and counters to the hallway mirror. Surface is the first step in realizing that vision."
A Complete Solution
Like the Xbox 360 game console and the Zune portable media player, Surface's technology won't be licenced out — Microsoft is manufacturing and delivering Surface itself.
"This is, to a large extent, Microsoft's best effort in years in terms of building a complete product," Rob Enderle, principal analyst for Enderle Group, told TechNewsWorld. "This one has been well thought through, everything from the target market, the hardware, the interface, the ecosystem that will surround it, to the user experience — it has all been very well crafted."
Commercial Applications
While Microsoft is showing off the technology with consumer-friendly applications that let the user virtually finger paint on the surface or spread digital photos out on the surface and share them dynamically with friends, the company is focusing early adoption on commercial applications.
Harrah's Entertainment, which includes a network of casino- and hotel-related properties, will let guests use Microsoft's interactive virtual concierge in Microsoft Surface to book concert tickets, see the menus at restaurants, book spa treatments and virtually visit off-site Harrah's venues.
"When visitors to Las Vegas choose to stay at one of our casinos, they can enjoy the amenities at all of them," said Tim Stanley, Harrah's chief information officer and senior vice president of innovation, gaming and IT. "Microsoft Surface is a great way to help our guests get the most out of their trips to Las Vegas by putting all the offerings and experiences we make available at their fingertips."
Starwood Hotels & Resorts Worldwide also plans to use Surface in its lobbies, which the company is currently revamping to make them more customer-friendly.
T-Mobile plans to include Surface in its stores this fall, where it can use Surface to help customers evaluate phones.
Into the Living Room?
The cost of Surface for commercial uses ranges from US$5,000 to $10,000, which is likely too steep for widespread consumer adaptation in the near future. Microsoft, however, fully expects Surface to evolve into lower-cost versions for the home over the course of several years. The concepts behind Surface may also reinvigorate the home media center environment.
"I hope this showcases a realization that these things need to be done, and if this interface can find its way over into a media center type of offering, it could be very successful where the existing class of products have not been," Enderle explained. "Something like this, properly positioned on a new class of hardware, could bring people back into the media center … this could become a perfect home theater interface."
Microsoft probably won't continue to manufacture Surface end-to-end forever, Enderle said. Microsoft might perfect the Surface solution and then license the technology to other manufacturers, he noted, who could then customize the technology and help grow the ecosystem quickly.