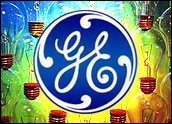 While the ever-expanding class of wearable fitness devices out there can tell users how many calories they've burned while undertaking any particular activity, realistic estimates of calories taken in have been few and far between.
Enter a new microwave oven currently in the works at GE Global Research that will tell users just how much energy is included in the meal they're about to consume.
"We are developing advanced sensor technology to make estimation of dietary calories in food as simple as the touch of a button," said Matt Webster, a cell biologist at GE working on diagnostics, imaging and biomedical technologies.
GE's team, in collaboration with Baylor University's Electrical & Computer Engineering Department, has combined devices that use advanced sensor technology to estimate the fat content, water content and weight of the food in question in order to automatically calculate dietary calories.
Currently GE has just an early prototype, but "we are hopeful that further development of this technology will result in a push-button device that will provide calorie content of your meal in an instant," Webster said.
Neither pricing nor availability information was provided.
"That looks rather convenient," Roger Kay, principal analyst at Endpoint Technologies Associates, told TechNewsWorld. "If they get a nice price point on it, like (US)$249, they might sell quite a few to health-conscious households."
'Are the Serving Sizes the Same?'
Some 100 million people are dieting in the United States alone, Webster noted, and "more than 80 percent prefer a do-it-yourself approach."
Although there are numerous apps to help track the user's consumption, they're largely guesswork, he pointed out. "How well does that burger you ate match with the burger you selected using an app? Are the serving sizes the same? Do any of the app database entries accurately reflect what you cook at home?"
In fact, automatic calorie estimation for foods actually consumed does not yet exist, Webster asserted. "The solution may be to use advanced sensor technology to measure the actual meal that you eat, rather than relying on an archived database of values."
To assess the three key dimensions for its estimates — fat content, water content and weight — GE's team is developing electronics and sensors that use microwaves to look for fat and water signatures.
"You can do this because water and fat interact with microwaves very differently," Webster explained.
'It Could Be the Start of a Broader Initiative'
"Until now, we've seen many devices focused on caloric output but very few focused on caloric input, which is often the more important determinant of weight gain or loss," Ross Rubin, a principal analyst with Reticle Research, told TechNewsWorld. "Adding this functionality to a microwave oven may be one way to differentiate a mature product."
Of course, "we don't microwave everything we eat — hopefully," Rubin pointed out.
So, "it could be the start of a broader initiative to integrate the functionality into other major appliances, such as refrigerators and ovens that store and cook our food," he suggested. "Or there may be other options such as plates and cups — such as the Vessyl container — that can complement or provide such a complete picture.
"The necessary diversity of these products is one reason why the major ecosystem vendors such as Google and Apple are integrating fitness and health-oriented measure-aggregation services and apps into their smartphones," Rubin added.
'The Long-Term Benefits Could Be Huge'
"It's an interesting concept, but it's still a lab concept," Steve Blum, president of Tellus Venture Associates, pointed out.
Still, the development "points to two things," Blum told TechNewsWorld.
"First, consumer goods manufacturers are looking at ways to combine sensors, connectivity and powerful server-side processing to deliver rapid, granular data to people on a routine basis," he said. "Everything around us is measurable, and creating devices that can automatically gather that data and send it on for processing — make it meaningful — is rapidly becoming commonplace."
Second, "and more particularly, giving people accurate readings of the calories they're consuming — as well as, with Fitbit-type devices, what they're burning — is a big step toward real-time health management rather than disease detection," Blum explained. "The long-term benefits could be huge."
'They'll Need to See Short-Term Benefits'
What remains to be seen is whether consumers want that much information, and whether they'll integrate it into their daily lives, added Blum.
"It seems like a great thing, at first, but in order for people to adopt it on an ongoing basis, they'll need to see clear and consistent short-term benefits, too," he pointed out.
"Tastier meals, easier preparation, painless cleanup are all possibilities. If people save time and effort, or get a better immediate result from the same effort, they'll want to use this kind of gizmo over and over again," he reasoned.
"If it reduces the time and effort to do daily tasks and makes life simpler, new technology like this will take off in the consumer market," Blum concluded. "If it just adds an additional step to existing chores, it'll end up in the back of the cupboard quickly."