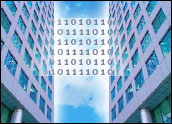 Delivering products that are faster, cheaper, and more reliable is a common goal among technology vendors. That desire has lead wireless LAN suppliers to develop a new networking technique dubbed MIMO (multiple input, multiple output) that promises to boost throughput and increase coverage areas. "MIMO is the most important technical advance that WLAN vendors have made during the past few years," noted Craig Mathias, principal with wireless market research firm Farpoint Group.
Previously, WLANs were designed so a user's device was equipped with one antenna that transmitted information to a single receiver. The new technique relies on multiple antennas placed on the sending and receiving portions of a wireless link, and the extra connections enhance connectivity.
Developing the underlying technology was difficult. "Working with multiple data inputs presents significant engineering challenges, and the engineers who developed MIMO did a remarkable job addressing them," Farpoint Group's Mathias told TechNewsWorld.
More Than an Academic Exercise
Airgo Network has been credited for most of the early development work: Airgo's CEO Greg Raleigh wrote the first academic paper on MIMO in 1996 while at Stanford University and the company has since been granted 26 patents. The vendor, which does not sell end-user equipment but instead designs chipsets, has convinced companies such as Belkin's and Linksys, a division of Cisco Systems, to incorporate its technology into their products.
Airgo's approach relies mainly on an engineering technique called spacial multiplexing to allocate bandwidth. Spacial multiplexing allows for the transmission of multiple distinct datastreams over multiple radios in the same band at the same time, and can effectively double — or even triple — throughput. Airgo products rely on adaptive channel expansion, or ACE, to transmit data over two of three non-overlapping WLAN channels.
A few other technical enhancements also had the potential to boost WLAN transmission speeds. Channel bonding, which has been used with the Institute of Electrical and Electronics Engineers (IEEE) 802.11a and 802.11g standards, represents one option. Here vendors transmit data over all three of the non-overlapping channels. This technique provides more bandwidth, but it does run the risk of causing service interruptions if transmissions bump into one another.
Firms could rely on vendors that have developed more complex modulation schemes, techniques to cram more bits into the frequency range and time slots that are already available. The problem with some of those solutions, however, is the modulated signals can become so complex that the interference normally found with wireless transmissions would create transmission blips.
A Narrow or Broad Definition
While Airgo has been firmly entrenched in using spatial multiplexing to improve performance, competitors such as Atheros Communications and Netgear have mixed and matched the different options. Atheros' chipset uses four antennas and two radios, which send data over two transceivers. While it may seem like MIMO, the two radios transmit the same datastream simultaneously.
Ruckus Wireless's BeamFlex technology uses seven internal antennas to transmit and receive the same data over multiple paths simultaneously, but there is only one radio and one transceiver for each datastream. Even though the two techniques do qualify as spacial multiplexing, the vendors have labeled their approaches as MIMO. "Airgo's competitors have been pushing to broaden the definition of MIMO so it does not require spacial multiplexing," noted Farpoint Group's Mathias.
The debate about MIMO's definition has been one of the factors slowing down development of faster wireless networks. The IEEE had planned to ratify a 100Mbps WLAN standard, dubbed 802.11n, by the end of 2005. Since vendors were not able to agree on a standard networking option, that work has been pushed out until the end of 2006.
Regardless of how strictly one defines MIMO, the emerging high-speed networking options should make WLANs more attractive. Currently, these networks offer 54Mbps of bandwidth; the next-generation systems are being designed to deliver more than 100Mbps of bandwidth, and the extra bandwidth should help users support a wider variety of applications.
"In the corporate market, users could deploy audio- and video-intensive applications, such as VoIP," stated Jean Kaplan, a research analyst at market research firm International Data Corp. In the home market, the extra bandwidth could support online gaming and large file transfers needed for applications, such as high-definition TV.
Appealing to the Home Front
The new options should solve another problem. With current wireless networks, throughput drops as the distance between the client and the access point increases. Traditionally, WLANs operated at distances of up to 300 feet although performance would be less if thick walls or floors were in the way. MIMO technology has the potential to increase transmission ranges to 500 feet, as well as do a better job of penetrating walls and floors. Those features should appeal to home users — many of whom have had difficulty placing access points so they cover an entire household.
The added speed and improved coverage is expected to come at a reasonable price. "MIMO products will help vendors prevent the price erosion that has been recently evident with 802.11g products," noted Dell'Oro Group's Collins, who added that the price point for wireless access points has dropped below the US$100 mark in a growing number of cases.
Consequently, analysts anticipate that the MIMO products will gain supporters. "I expect that in the summer of 2007, most of the WLAN products being shipped will support MIMO," concluded Dell'Oro Group's Collins.