Big workday changes have been occurring. Work is not only spilling into our leisure time at home, but also taking over our downtime on the road.
Work has always eaten into road downtime somewhat, often because of communications inefficiencies.
Today overwork is demanded by bosses, globalization, general competitiveness and tight budgets. It's also a response to the seductive call of the smartphone and tablet — the ease of slipping a device out of your pocket and your head into work mode, to borrow from Everest climber George Mallory, "because you can."
There's less dependence on PCs today. Workers now often own their own, highly portable equipment, which they want to plug in whenever they choose. There's a general lack of formal office policies about using work-owned devices outside of work hours.
These changes, along with a social life now carried out in cyberspace, are rapidly altering the hotel landscape.
The Way It Was
Technology in the old days of business travel used to involve hanging around hotel rooms patiently nibbling left-on-pillow chocolates, waiting for incoming phone calls. Or hanging around for the hotel switchboard operator — who often doubled as front-desk clerk — to place a call. The system frequently failed. There were messages lost because the red lights on phones failed to blink; there was melted chocolate in hair.
As time went on, hotel-based guest technology slowly moved on from the voice and switchboard phase.
The nomadic business traveler then availed himself of the hotel's fax machine — eagerly awaiting arbitrarily ordered pages to spew forth. Later, the more tech-savvy travelers would dismantle room-phone wall plates in order to attach hulking laptops and portable fax machines — often frying modems because newly installed, high-tech digital switchboards weren't compatible with analog modems.
During those dark, smoky in-room days, the lodging industry lumped Internet access with the mini bar, pay television and room service as an add-on. It was an inconvenience to manage, but it padded income in much the same way phone calls did way back when.
Today, there's an about-face.
Business Driver
"Tech used to be an amenity — now it drives our business," Tony Fernandez, general manager of the Courtyard by Marriott in Woodland Hills, Calif., told TechNewsWorld.
The Marriott-licensed Courtyard, which recently opened in this Los Angeleno edge city, is one of the next-generation business hotels. It's a hotel where it appears that providing connectivity isn't just an expensive, troublesome annoyance, but one that's a fundamental part of the hotel's fabric and business model.
Fernandez kindly gave TechNewsWorld a tour.
The GoBoard
Immediately obvious upon entering the lobby was the large flat-screen informational television located on the circulation route between guest areas and exit — at 55-inches, larger than any I'd seen before upon entering a hotel.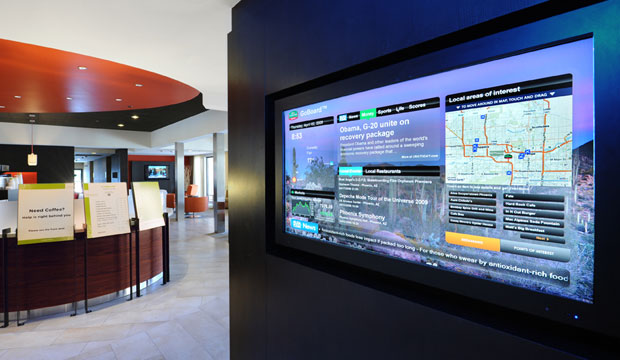 The GoBoard is the Courtyard's information hub. (Photo: Marriott International)
Courtyard and the screen's producer, Four Winds Interactive, call it the "GoBoard." It provides local weather, news and maps. Its vividness contrasts with the earthy, subdued hues of the rest of the lobby. It's almost reminiscent of focal fireplace in a rustic inn.
"The GoBoard has enhanced the guest experience, allowing the tech-savvy business traveler to access local information, including real-time flight information, and take it with them on their mobile devices," Kelly Sullivan, director of managed solutions for Four Winds, told TechNewsWorld.
Neat touches include a highly responsive touchscreen and download-to-personal-device functionality via bar codes. Maps include national airport delay status, local restaurants, car rental offices and so on.
Of course, many business travelers may already be carrying that kind of media on their own devices.
Still, "the GoBoard sends a signal that we are high tech," Janis Milham, VP and global brand manager for Courtyard, told TechNewsWorld.
The information is curated by the hotel and thus has value," she pointed out.
Plus, the screen relieves pressure on the front desk. Long front-desk lines have been a common feature of classic hotels.
Guests also can access information at the Welcome Pedestals that serve as stand-ins for front-desk personnel.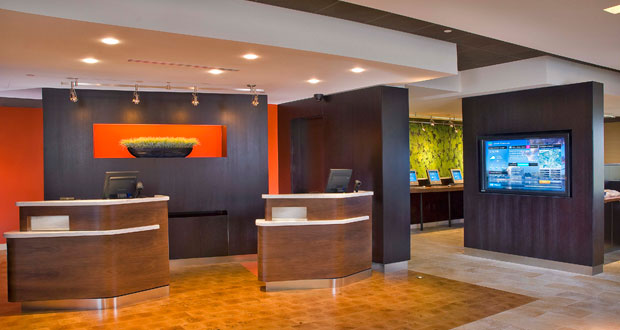 Self-service Welcome Pedestals can be an antidote to long lines at the front desk. (Photo: Marriott International)
The GoBoard appears to be used more by families visiting the region than hardened business travelers who already have access to travel information, according to Fernandez. Woodland Hills can be a base for attractions like Hollywood, Universal City Walk and other L.A. points of interest.
Four Winds Interactive has more than 670 GoBoards installed worldwide with an additional 175 rolling out in 2013.
Plug It In
Lacking the bling of a GoBoard but of high interest to guests are the outlets that are everywhere in the new Courtyard.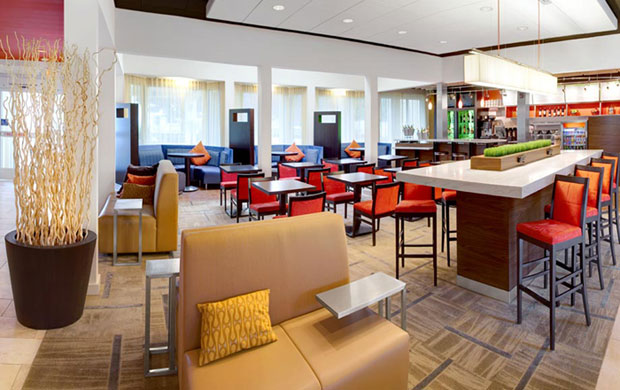 Guests have a variety of seating options with plenty of outlets within easy reach. (Photo: Marriott International)
I gave up counting, but it was obvious that outlets were within reach of every lobby sofa. There were outlets on the Starbucks-like communal table and outlets within the semi-private media pods. There were more outlets in the lounge areas, along with more TV screens displaying broadcast and cable programs. Guests had access to the remotes.
PCs with printers — good for boarding passes — that you'd previously have seen in hotel business centers were dotted throughout the lobby, as were library-like workspaces.
All of these features appeared to be conducive to work, relaxation and socializing outside of the room.
The TV-featured media pods are particularly liked by women travelers who seem to prefer a little privacy, while also being close to where the action is, according to Fernandez.
Keeping Them Close
Back in the day, some cheaper hotels — particularly those in cold climes — would come up with a variety of tricks to reduce the running costs of their guest rooms. One that old travel hands may recall is turning off the room heat to encourage guests to look for something to do in a warm spot outside of the hotel.
Courtyard's motivation for all this tech-induced goodwill isn't to nudge guests out of their rooms, though, said Milham. In fact, it's the opposite. Courtyard wants guests to hang out at the hotel.
"The more they stay around the hotel, the more money they spend," she said. There is a bistro and 24-hour shop in the lobby too.
WiFi access is all-inclusive — which we used to call "free" — throughout the hotel, both in-room and in-lobby, noted Fernandez.
Guests are getting work done all over the place at all times — even on planes now, with on-board Internet, observed Milham.
"We're enabling that technology for our customers," she said.
Providing connectivity for guests is not a perk, it's a necessity, noted Fernandez, "or they'd leave in droves."