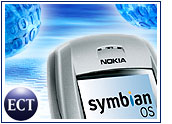 Cell phones are no longer used simply for voice communications; increasingly, they support text messaging, e-mail, Web surfingand even video transmissions. With this transformation has come the need for a more sophisticated mobile operating system. Half a dozen vendors, including Microsoft and Symbian, are trying to deliver it, but a few years will pass before a clear-cut winner emerges.
Cellular communications is changing. Mobile phones have become smaller, lighter and more powerful, and cellular networks have evolved from a voice-only technology to networks that support transmission rates of hundreds of megabits per second. Third-party developers and carriers want to deliver new multimedia applications that can take advantage of powerful new phones — called smartphones — that marry traditional telephone capabilities with PC functions.
Ideally, developers would write an application that would run on a variety of smartphones, but that is possible only if one operating system ran on a variety of cell phones. Currently, that is not the case, so developers must work with more than two dozen proprietary systems. Consequently, vendors spend a lot of time and money porting applications to different systems.
Symbian has come closest to delivering a standard cell phone operating system. Available since 1998, the Symbian OS has garnered significant support. Approximately 18 phones — from companies such as Ericsson, Matsushita Electronics, Nokia, Psion, Samsung, Siemens and Sony Eriksson — now rely on the OS. More than two dozen additional systems are under development.
"Since the Symbian OS was designed specifically for cell phones, it does a good job of delivering needed functionality for mobile users," Neil Strother, an industry analyst with In-Stat/MDR, told TechNewsWorld.
A Cozy Relationship
But not all mobile phone vendors feel comfortable with that OS. "A number of competitors do not like the tight relationship between Nokia (a cell phone maker that owns about one third of the OS supplier) and Symbian, and would rather rely on an operating system that comes from an unbiased source," said Ira Brodsky, president of Datacomm Research, a market research firm that focuses on wireless transmissions.
Symbian's market position is tenuous because few cell phones now take advantage of smartphone capabilities. In-Stat/MDR found that out of the 560 million phones shipped, only 16 million (representing about 3 percent of the overall market) were smartphones. Analysts expect that percentage to grow as more data-intensive applications become available.
Aware of the potential market shift, Microsoft has tried to push its Windows operating system down into cell phones with the Microsoft Smartphone OS. "Microsoft's big advantage is its product's compatibility with its large base of desktop applications," Seamus McAteer, an industry analyst with Zelos Group, told TechNewsWorld. In fact, the petite operating system was designed to be compatible with its Outlook e-mail system, Internet Explorer Web browser, instant message capabilities with MSN Messenger, and multimedia features via the Microsoft Windows Media Player.
Because of the compatibility, the software giant has garnered new allies. Motorola's first Microsoft-based smartphone was the MPx200, and it was followed by the MPx and MPx 100 handsets. Two Taiwan companies — HTC and Mitac International — also are producing smartphones that run the Microsoft software. Nextel worked with Motorola to deliver a smartphone for its services, and Samsung has begun ramping up to deliver a Microsoft-powered phone later this year.
Fear of the Goliath
But there has been some reluctance among carriers and handset vendors to embrace Microsoft's product. "Handset suppliers fear that Microsoft will eventually dominate the cell phone OS market as it does the PC OS, and that would eliminate differentiation from handset hardware, which is where they envision their profits coming from," said McAteer.
These vendors do have another choice, because wherever one finds Windows, Linux is right behind, and that operating system is emerging as another viable smartphone development platform. Linux is attractive to manufacturers because of its open-source base, which minimizes manufacturers' development costs and maintenance requirements.
The Embedded Linux Consortium, whose 125 company membership includes IBM, Red Hat and Samsung, has been trying to entice developers to use the operating system for applications running on car control panels, smartphones, PDAs and TV set-top boxes. The group has had some success, particularly in Asia, with smartphones. NTTDoCoMo decreed that Linux is its preferred 3G phone development environment, Samsung released a Linux-based smartphone in China, and NEC plans to take a similar path later this year.
A Palm Rebirth
The Palm OS also has gained a fair amount of acceptance in the cell-phone space. "Palm was slipping a bit but seems to have regained momentum with delivery of its Trio system, which is really quite slick," said In-Stat/MDR's Strother. That new device's success seems to ensure that the operating system will remain a viable smartphone OS option, at least in the United States, for a few more years.
Research In Motion's Blackberry system was built to help users access data services over wireless networks. Yet the Blackberry is viewed more as a niche offering than one capable of dominating the market. Consumer acceptance of smartphones will determine the eventual market leaders. "We are seeing movement among consumers toward more sophisticated devices," said In-Stat/MDR's Strother. "The rapid uptick in camera phone sales was something that caught me a bit by surprise."
The key to acceptance was driving down pricing, and smartphones have been slow to take hold because they are expensive, with prices ranging from $300 to $450. The sweet spot in the consumer market is the $50 to $100 range, so vendors need to increase their shipments significantly to meet those marks.
"We are still in an early stage of market development, so the various operating systems are safe at the moment, but eventually only two, or maybe three, will gain enough acceptance to remain viable long term," concluded Zelos Group's McAteer.