The Scoop: Monkey Light Pro is a bicycle wheel display system that's looking for funding on Kickstarter. The funding effort ends on July 21.
If you've been anywhere near Mid-City or central parts of baked-concrete urban Los Angeles in the last few years, you may have noticed the Midnight Ridazz, a large social bike group who generally ride in the evening and at night — often en masse.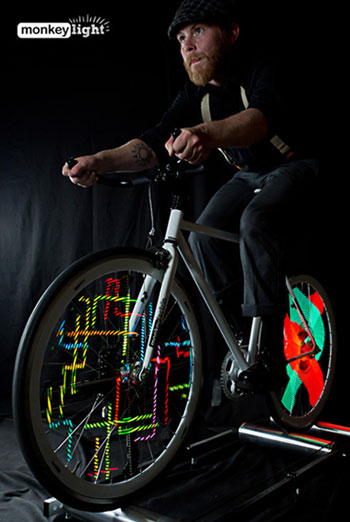 This group of bicycle enthusiasts have been whizzing around the streets of LA in the dark since 2004 and make an impressive sight. The original group of eight has swelled to 1,300 or more, according to the group's website.
Well, Midnight Ridazz and its community-riding ilk around the globe could be the perfect target market for MonkeyLectric's system for displaying illuminated graphics on bike wheels. It may just be the first new bike fashion statement since colored bicycle tires.
What Is It?
A set of four bars with 256 colored LED lights attaches with bolts to the spokes of the rider's bicycle wheel.
The lights rotate along with the wheel, creating an image. It uses a theory called Persistence Of Vision whereby an afterimage illusion is supposedly generated by the brain and eye, creating a complete picture from a series of images.
Four magnetic sensors and a two-axis accelerometer track the speed, upwards position and rotation direction. A chip enables the light to create bright, still or animated images that fill the entire wheel.
The marketing tagline is, "Crank your bike to eleven."
What's in the Package?
Users can also choose included art from a Web-based app and send it to the device via Bluetooth. Alternatively, they can create their own art and animations. The work of 10 artists is included.
Features: Weighs 500 grams; waterproof; visible at wide angles from both sides at speeds from 10 to 40 mph. Fits 26-inch and larger wheels; 8 hours lithium polymer battery life; developer tools and API are available. MonkeyLectric says that an added bonus is that the product helps keep the wheels balanced.
The Numbers
San Francisco-based Monkey Light Pro currently has 515 backers who have pledged US$173,766 toward a $180,000 goal. The funding period ends on July 21.
Upsides
MonkeyLectric has made smaller 10- and 32-LED Monkey Light products before, so has the benefit of manufacturing and market experience. The company appears to be aware of potential issues. For example, it has decided to use a solid rubber molded construction rather than plastic for durability and vibration resistance.
The company has used Kickstarter before as well, so it's already aware of any issues.
MonkeyLectric operates its own manufacturing in the U.S., so it does not need to strike overseas manufacturing, shipping and import deals.
Downsides
First and foremost among the downside for Monkey Light Pro is cost: It's priced at $895 retail. Many urban bicycle riders ride bikes for the purpose of transportation to and from work, and may not have the discretionary income for this product.
Other bike riders at other socioeconomic scales may ride during the day only, and this product is not visible in bright sunlight.
Theft may be an issue as well. Although MonkeyLectric has made a provision for theft via a steel strap, the manufacturer needs to simplify the assembly so that the product can be more easily attached and removed from the bike.
Easiest assembly, according to the manufacturer, involves removing the wheel and takes about an hour.