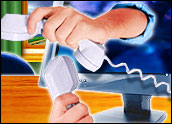 A growing number of households in the U.S. are hanging up their landline phones, opting instead to use cell phones exclusively, according to a Wednesday report from the Centers for Disease Control and Prevention (CDC).
The six-month survey, conducted from July 2007 to December 2007, found that 22.3 percent of households with both landline and mobile phones use their traditional wired phone lines rarely or not at all.
The agency's findings represent an increase over results the CDC had gathered just six months earlier, between January and June of 2007. That earlier study found the proportion of households that had both but relied mainly on wireless stood at 20.5 percent.
"The price of wireless service is such that its cost is sufficiently low that the extra convenience of being able to walk around is worth it. Waiting to make calls on nights and weekends is not a burden for many consumers. The freedom to go more than 50 feet from a home base station is worth it to those that have coverage," Bill Hughes, an analyst at InStat, told TechNewsWorld.
We Don't Need No Stinking Wires
The survey found that nearly 16 percent of households had a mobile phone but did not have a landline. That means approximately 32 million adults, 14.5 percent, live in households with only wireless phones.
During the first half of 2007, one out of seven adults reported living without a wired phone line. Fewer than one out of every eight adults reported a similar status during the last six months of 2006. During the same period in 2004, just one out of every 18 adults had no landline in their home.
"We weren't seeing numbers this high a couple of years ago. Certainly, though, [companies including] Metro PCS have grown and so has Leap Wireless. That's kind of an indication that we're seeing more of this," Tole J. Hart, a Gartner analyst, told TechNewsWorld.
Some 31 million adults, 14 percent of the U.S. adult population, lived in a "wireless-mostly" household during the second half of 2007, according to the CDC. That was an increase of 3 million adults from the first six months of 2007 when the number was 28 million or nearly 13 percent of adults.
Adults sharing a home with unrelated roommates were most likely to use only a cell phone — over half identified themselves as wireless only. About a third of those 25 to 29 years old live in a wire-free household. Among newly minted adults aged 18 to 24, 31 percent said their households were wireless.
The percentage of households that do not include a landline decreased as age increased. Only 2.2 percent of the over-65 set reported going totally wireless. About 8 percent of those 45 to 64 years old had ditched their landlines, and 15.5 percent of those between 30 and 44 years old reported living in a wireless household.
"Going totally mobile if you're young and never had a landline before [is easy]. You just get a mobile and a broadband [connection] and it's part of the cost of your telecom budget," Hart said.
The CDC findings back up research from Instat, according to David Chamberlain, another InStat analyst.
"[Cord cutters] tend to be a little bit younger and more likely to be living in shared housing," he pointed out.
However, he added, the trend is moving up to older and more affluent households.
No Landline Required
Chamberlain has not had a landline in five years and told TechNewsWorld that unless a household includes children too young to have their own cell phones, or something that requires a landline connection such a security system, wired phone service is superfluous.
"Making a phone call is personal. You're calling a person, not a place," he said.
Also, he added, cell phone 911 technology has improved to a level that callers with a landline receive.
"In general, cell phone 911 is pretty good and in fact better than some of the stuff you're being offered by the VoIP (Voice over Internet Protocol) providers like the cable companies or something like Vonage," Chamberlain said.
One drawback to going wireless is that landline central offices have better power back-up systems than cell towers if the power is out for a long time.
"As long as the home has at least one non-cordless phone, you typically still have phone service if the power is out for days. These are strictly rational reasons. There is also an emotional connection to the wireline phone. While this is not strictly logical, the telephone tells us where our home is and where our desk is at work," he continued.
All You Can Eat
The recent introduction of so-called everything plans from wireless carriers is likely to push the wireless-only trend Chamberlain noted.
"These all-you-can-eat voice plans, even (US)$100 a month, you get absolutely everything and don't have to worry about being nickeled and dimed," he explained.
In addition, cell phones have more options and functionality of a standard or even high-end wired phone.
"The most basic mobile phone has more capabilities than the most sophisticated wireline phone. Even basic phones track inbound calls, call-waiting without additional fees, games, connections to Bluetooth headphones for even more mobility," Hughes said.
Growing Threat
All three analysts expect the trend toward wireless households to continue and spread to businesses as well. With that growth, the threat to traditional landline purveyors also increases.
"It will take a while, but eventually everyone will have their own phone. You can do more with the phone and are able to communicate in different ways. [Traditional landline companies] are preparing themselves. Verizon and AT&T have wireless, so they understand it. Ideally they would like to combine the two and bundle it so that you have your landline for voice and use your cell phone too," Hart explained.