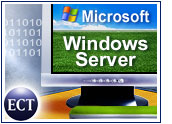 Microsoft revealed specific details about its upcoming Windows Server 2008 Monday at this year's Microsoft TechEd IT Forum in Barcelona, Spain, including packaging, pricing and licensing information. One major difference from previous iterations of Windows Server, the software maker announced, are two sets of the operating system (OS). One set includes its new Hyper-V virtualization technology, formerly codenamed "Viridian;" the other does not.
"Windows Server 2008 redefines what a server operating system delivers to customers," said Bob Kelly, corporate vice president of infrastructure server marketing at Microsoft. "With more than 1 million downloads and evaluation copies, we've built Windows Server 2008 based on a solid foundation of customer feedback, which is reflected in the product's ease of management, security enhancements and overall reliability.
"The unprecedented range of customer choices and the virtualization enhancements will help customers tailor solutions built to fit virtually any business need," he added.
In total, Microsoft will launch eight versions of Windows Server 2008, three of which will include its Hyper-V technology.
So Many SKUs
Releasing eight versions of the same software could be tricky for Microsoft, said Michael Cherry, lead analyst at Directions on Microsoft. He points to the confusion surrounding the several editions of Vista as a lesson where Microsoft should have learned to limit the number of versions it releases.
"It doesn't make any sense to me why [they released] eight versions," Cherry told TechNewsWorld. "The only one that stands out is that they are still doing a version for the Itanium-based system."
There remain customers and original equipment manufacturers (OEMs) that maintain that the Itanium is a better processor for high-speed processing in databases and other high-processor bound applications, Cherry noted.
"That one, because it's the last of the operating systems for that chip, probably makes sense. If you eliminated that, you would basically be saying that the Itanium chip was dead," he explained.
Other than that, Microsoft should have released only three SKUs, he said.
As for the Web Server version, Cherry said, Microsoft has done a lot of work to MAKE IIS 7.0 a lot like Apache. "Some people will use it but that still could have been done with the standard edition," he continued. "It just seems like a lot. And then you have with or without the hypervisor. I don't understand why there aren't maybe three. But eight seems like a little much."
Competing With VMware
Another possibility for the multiple Windows Server 2008 editions is that Microsoft is trying to bump up its competition with VMware, said Christopher Voce, a Forrester Research analyst. It may also be looking to provide a product that does not force businesses to repurchase a hypervisor, such as those purchasing one for their existing VMware environment.
"They offer Windows Server 2008 without Hyper-V and add a US$28 discount. By adding Hyper-V for a nominal fee they hope to chip away at VMware's huge market share," he explained.
Feature for feature, however, Windows Server 2008 with Hyper-V does not stack up well against VMware's ESX Server products, Voce told TechNewsWorld.
"But for those that are more comfortable with the Microsoft way of doing things and have plans to deploy or extend their use of System Center virtual machine manager, this might offer good enough capabilities for their short-term consolidation focused goals," he stated.
Five months ago Microsoft decided to reduce the number of features in Hyper-V. The company replaced Live Migration in the initial release with Quick Migration, and unlike VMware's VMotion, users cannot seamlessly migrate a machine from one server to another. Instead, it is taken offline and then restarted on the other server.
"They backed off on the features to get the product out the door. And feature to feature, it does not stack up against ESX. But for those more comfortable with Microsoft, this gives them something while Microsoft catches up on its features," he concluded.
Choices to Make
With Windows Server 2008 Standard, business users will get built-in, enhanced Web and virtualization capabilities as well as tools that give them greater control over their servers, streamlining configurations and management tasks, as well as enhanced security features to harden the operating system and add another layer of protection for data, according to Microsoft. The software includes one virtual instance per license and is priced at $999 with five Client Access Licenses (CALs).
Offering the same features as the Standard edition, Windows Server 2008 Enterprise comes with three more virtual licenses. This version of the OS comes with four virtual instances per license. Enterprise will sell for $3,999 with 25 CALs.
Windows Server 2008 Datacenter provides an enterprise-class platform for the deployment of users' business-critical applications. The software helps users improve availability and security features while at the same time reducing infrastructure costs through the consolidation of applications using Microsoft's virtualization licensing rights, Microsoft said. Datacenter offers users an unlimited number of virtual instances per license and will retail at $2,999 per processor.
Each OS will also be available in a non-Hyper-V version that does not include the virtualization technology. The number of CALs remains the same for each product; however, the price of the three different editions drops by $28.
Microsoft is also offering its Windows Web Server 2008 and Windows Server 2008 for Itanium-based systems without its hypervisor technology.
32 or 64
Microsoft designed Web Server 2008 for use as a single-purpose Web server. It offers a solid foundation upon which businesses can build their Web infrastructure capabilities, the company said. Using its integrated and newly re-architectured Internet Information Services (IIS) 7.0, ASP.NET, and the Microsoft .Net Framework, organizations can rapidly deploy Web pages, Web sites, Web applications and Web services, Microsoft said. The Web-specific server OS will retail for $469.
For enterprises running large databases on Itanium-based system, Microsoft will offer a version of Windows Server 2008 specifically designed to support and accommodate their workloads. It is optimized for line-of-business and custom applications in a large database environment. The software provides high availability and scalability up to 64 processors to meet the needs of the most demanding and mission critical solutions, according to the software maker. It will be priced at $2,999 per processor.
All of the OSes will be available in 32-bit as well as 64-bit versions, except Windows Server 2008 for Itanium-based System. That product is available only as a 64-bit version.