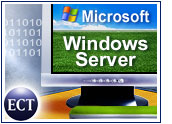 Microsoft launched Windows Server 2008 in Los Angeles on Wednesday.
With its new features and enhanced tools, Windows Server 2008 has enjoyed a better reception than Windows Vista and has been deployed by a number of companies in beta, Rob Enderle, principal analyst at the Enderle Group, told TechNewsWorld.
"The product has been designed to handle substantial data loads. It's been made over time far more robust than its predecessors. It's been designed from the ground up to use virtualization technology, terabyte-level and above data storage. It is the first server product from Microsoft designed from cradle to grave to be large enterprise-class.
"It is vastly improved and demonstrates substantial work done on the product since the 2003 drop," he added.
The milestone launch also included the unveiling of Microsoft Visual Studio 2008 and Microsoft SQL Server 2008. The three products, the company said, will help enterprise customers more efficiently and securely manage their entire infrastructure and move to a virtualized environment.
Both Window Server 2008 and Microsoft Visual Studio 2008 are currently available; however, businesses will receive a beta version of Hyper-V, the company's virtualization software. The software maker plans to release Microsoft Visual Studio 2008 during the third quarter of this year.
A Tweak Here and There
Formerly code-named "Longhorn," Windows Server 2008 builds on its predecessors with significant but incremental improvements. This latest iteration will allow organizations to create an optimized and dynamic IT infrastructure through the automation of daily management tasks, tightened security, improved efficiency and increasingly availability, according to Microsoft.
"There really aren't any killer features per se. There are hundreds of small improvements, but there's really nothing to say 'I've got to have this.' The most significant feature — the virtualization support, the Hyper-V technology — won't be available until later this year in June," said John Enck, a Gartner analyst.
"There are a number of features and some clients will be interested in some features and other clients in others. It's going to be a case where customers a going to define what's exciting to them on an individual basis in this release," he added.
Pulling It Together
"There are incremental improvements to a variety of features as well as new features such as Server Core installation mode, Network Access Protection, and of course a virtualization (Hyper-V) to be delivered later," Michael Cherry, lead analyst at Directions on Microsoft, told TechNewsWorld.
For example, Server Manager is a console that provides a single unified console for managing a server's configuration and system information. It displays server status, identifies problems with server role configuration and manages roles installed on the server. Combined with Server Manager is Windows PowerShell, the command line shell and scripting language for automation that helps write scripts and shows administrators exactly which commands are behind each button and control. It also allows administrators to record actions in the user interface and save scripts based on those actions.
"It gives you control essentially command line control over everything you can do in Windows. Anything you can configure, anything you could administer can now be done through a command line. If I'm a Unix person, that will be a compelling feature for me, to be able to write scripts to command and control the Windows Server 2008 environment. It is a feature that is exciting to a constituency of users," Enck explained.
Other new technologies include the Server Core Installation Option, Internet Information Services (IIS) 7.0 Network Access Protection, Read-Only Domain Controller and Windows Server Hyper-V are new features that may also appeal to select groups of Windows Server users.
With the Server Core Installation Option, administrators can choose to install Windows Server 2008 for select user roles without extra overhead, according to Microsoft. The feature includes eight server roles such as Active Directory Domain Services; Active Directory Lightweight Directory Services; Dynamic Host Configuration Protocol (DHCP) Server; DNS Server; File Services; Print Server; Web server (IIS7) and Hyper-V (virtualization).
"Another benefit is that Windows Server 2008 has this role-based installation. When I'm installing Windows Server 2008, I say this is going to be a file or print server. This is going to be an application server or this is going to be a Web server and it will only install the portions of the operating system necessary to perform that role," Enck continued.
"It's going to be more efficient and easier to patch and maintain," he told TechNewsWorld.
Virtualization Foray
With Hyper-V, Microsoft marks its entry into the virtualization software market.
"Hyper-V is critical for Microsoft to offer customers a complete solution. The delay of Hyper-V will slow down short-term adoption prospects for customers interested in deploying virtualized configurations using Microsoft technology," Al Gillen, an IDC analyst told TechNewsWorld.
Overall, Cherry said, enterprises that deploy Windows Server 2008 will find it a steady and reliable operating system.
"[Windows Server 2008] continues to offer a stable and reliable platform for running server applications, such as messaging and database or line of business applications. Core provides an opportunity to improve infrastructure services. Network Access Protection will increase security by ensuring that computers are correctly patched and running antivirus and antispyware software," he noted.