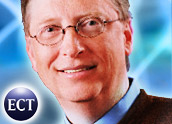 Microsoft on Monday announced a new student program Monday dubbed "DreamSpark." The new program will give college and high school students around the world access to the software giant's development applications at no charge.
DreamSpark is now available to millions of college students in Belgium, China, Finland, France, Germany, Spain, Sweden, Switzerland, the United Kingdom and the U.S. The program will become available to students in countries such as Australia, Czech Republic, Estonia, Japan, Lithuania, Latvia and Slovakia over the next six months.
The rollout will continue through the third quarter of 2008, expanding to other countries in the Americas, Asia and Europe to offer as many as 1 billion young programmers the opportunity to participate in the program, Microsoft said.
"We want to do everything we can to equip a new generation of technology leaders with the knowledge and tools they need to harness the magic of software to improve lives, solve problems and catalyze economic growth," said Bill Gates, chairman of Microsoft. "Microsoft DreamSpark provides professional-level tools that we hope will inspire students to explore the power of software and encourage them to forge the next wave of software-driven breakthroughs."
Get 'Em Young
There was a time — back in the 1990s — when colleges around the world offered programming courses using Microsoft's design applications. However, the rise in popularity of open source programming tools, propelled in part by the fact that much of the software is free, has seen aspiring programmers moving away from design applications for the Windows platform.
"What's been happening over the last five years really is that a lot of students have been turning to open source products because they can get them for free," said Jeffrey Hammond, a Forrester Research analyst.
"What they've done is recognize that in order to continue to grow talent, they need to lower the barriers to entry to their development language and products that they support. I would characterize it more as evening the playing field," he told TechNewsWorld.
Free for the Taking
With so much free software available to aspiring developers, the proprietary nature of Microsoft's applications was often a drawback in pure computer science curriculum — what once was C++ has become Java, said Mark Driver, an analyst at Gartner.
"What they really want to do is make sure that when students are coming into the business market they have some specific Microsoft skills behind them — and more often, they don't. You always have to have the hearts and minds of the kids coming up. It really is a cultural issue more than anything else. If there's a cultural bias, it doesn't matter how good the tools are. Technically speaking, then, it doesn't do any good to have a better mousetrap," he told TechNewsWorld.
Once it has verified a student's ID, Microsoft will allow wannabe programmers to download:
Visual Studio 2005 Professional Edition
Visual Studio 2008 Professional Edition
XNA Game Studio 2.0 for the Xbox 360
SQL Server 2005 Developer Edition
Windows Server, Standard Edition
The development software giveaway also includes 12-month free Academic membership to the XNA Creators Club.
Microsoft has not forgotten about the Web, either. In addition to the other development applications, the software maker has also made its Expression Studio bundle, including Expression Web, Expression Blend, Expression Design and Expression Media, available for download by students.
'Boost to Other Software Makers'
Although Microsoft's giveaway is most clearly aimed to benefit the company by giving a new generation of programmers hands-on experience with its development software, the industry as a whole, particularly other software companies that develop for the Windows platform, might also reap a share of rewards.
"The more technology you make available to people who are learning [to program] and introduce them to the platform, the more choices they have, the easier it is for them to make an honest and open opinion of which one they prefer," Driver pointed out.
"Microsoft will make their money back by getting their licenses later on when it is officially supported by the company or when that student gets a job. It will absolutely be a boost to other software makers. It strengthens the platform," he added.
Students will also come out winners, and not just because of the free software.
"This is a good thing for the industry and students. If the students have their choice of technologies and there are not artificial barriers like having to pay a couple of hundred dollars to access one particular technology, then what's going to end up happening is that they will choose the technologies that are easiest for them to install, the most productive for them to develop in and the quickest for them to learn," Hammond noted.
"Overall, in the long term, that creates a benefit to the industry because the best, most usable, most productive development environments tend to be the ones that win out in the long run, not simply the ones that are the cheapest," he concluded.